myNetMon 2.0

myNetMon, Network Monitor and Packet Analyzing Tool (V.

Developer:
Turkish Security Network
software by Turkish Security Network →
Price:
0.00
License:
Adware
File size:
0K
Language:
OS:
Windows Vista

(?)

Rating:

0

/5 (0 votes)
myNetMon, Network Monitor and Packet Analyzing Tool (V.2.0)

myNetMon is windows based network monitor and packet analyzing (sniffer) tool.myNetMon uses WinPcap, a windows port of Libpcap which is a packet capturing library.

Features:

- Physicial (Ethernet),
- ARP, RARP, IPX, IPV4-6,
- Displaying ICMP, UDP, TCP ... packets according to their features,
- Displaying packets in hexadecimal form,
- Listing packets accoring to their types, protocols, MAC Addresses, IP Addresses and Ports,
- Capturing only required packets (Layer 2/3, Protocol (ARP, TCP-UDP-ICMP...), port based (TCP: 23, 25, 80 ..., UDP: 53, 139 ...), Host to host, Client to host...,packet's length, All these filterings can be created with BPF (Berkeley Packet Filtering) rules,
- Changing the content of packets (Packet Forging) and sending to the network,
- Reconstruction of TCP packets (So web traffic is saved as Html, Gif, Css, Zip, Mp3..., e-mail traffic saved as .eml, news traffic saved as .nws and FTP Data session's can be saved)
- Saving captured packets,
- Opening and analyzing files, saved with Libpcap (Tcpdump, Ethereal),
- Anti anti sniff option.....

Please install winpcap ( http://netgroup-serv.polito.it/winpcap ) before running myNetMon.

Please uninstall old versions before installing this version.

This download is marked as adware because it displays advertisement banners or other type of commercials while running.
tags

tcp packets traffic saved packet analyzing and packet monitor and network monitor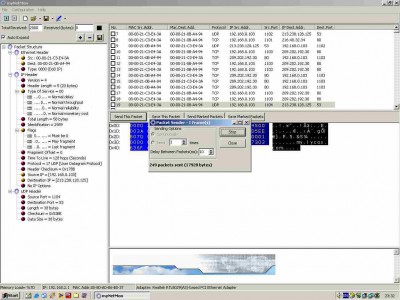 Download myNetMon 2.0
Similar software

myNetMon 2.0
Turkish Security Network

myNetMon, Network Monitor and Packet Analyzing Tool (V.

EtherDetect Packet Sniffer 1.41
EtherDetect Packet Sniffer

EtherDetect Packet Sniffer is an easy for use and award-winning packet sniffer and network protocol analyzer, which provides a connection-oriented view for analyzing packets more effectively.

VisualSniffer 2.0
BVTech Inc

VisualSniffer is a powerful packet capture tool and protocol analyzer (ip sniffer or packet sniffer) for Windows system.

Packet Spy 2.1
Nathaniel Meyer

Packet Spy is a free and useful packet sniffer utility.

NetworkActiv PIAFCTM 2.2.2
NetworkActiv

Easy yet advanced, quad-mode packet analyzer, Mode 1 (Packet Interceptor) While in this mode, PIAFCTM captures and analyzes network data packets.

Internet Packet Monitoring Components 1.1
Magenta Systems

Magenta Systems Internet Packet Monitoring Components are a set of Delphi components that were to capture and monitor internet packets using either raw sockets or the WinPcap device driver.

EtherSnoop Light 1.11
Arechisoft

EtherSnoop is a basic network sniffer, that will capture all packets going through the network, including dial-up connection or network Ethernet card.

Sniff - O - Matic 1.07
Kwakkelflap

Sniff - O - Matic is a network protocol analyzer and packet sniffer with a clear and intuitive interface.

EffeTech HTTP Sniffer 4.1
EffeTech

A HTTP protocol network sniffer, packet analyzer and file rebuilder.

Colasoft Packet Builder 1.0 Build 127
Colasoft Co Ltd

Colasoft Packet Builder is useful tool used for creating custom network packets, you can use this tool to check your network protection against attacks and intruders.