XP Smoker 5.6

XP Smoker will allow you to modify some Registry settings .

Developer:
WareSoft
software by WareSoft →
Price:
29.00 buy →
License:
Shareware
File size:
0K
Language:
OS:
Windows XP/Vista

(?)

Rating:

0

/5 (0 votes)
XP Smoker will allow you to modify some Registry settings . These settings can improve the performance for your computer drastically.

You can also stop and disable useless services in Windows XP. And in the end, you will reduce subsystem bottlenecks, increase application and boot speeds, and ultimately increase the stability of your system.

Simple for Beginners. Powerful for Experts. And it really works! XP Smoker is perfect for game enthusiasts, heavy surfers, and PC users on a budget. It is the simple and straightforward way to tweak your system to peak performance.

XP Smoker also includes a state-of-the-art Internet Optimizer that runs a series of tests to improve your Internet connection for smoking-fast surfing no matter what connection speed you have! Whether you use a dialup, cable, DSL, or satellite connection, XP Smoker can increase your browsing speed by as much as 100%!


XP Smoker features
Reduce subsystem bottlenecks throughout your system

Decrease application and boot load times

Increase the stability of Windows XP

Increase web browsing anywhere from 10% to 100% faster

Push your 56K, DSL, Cable, Satellite, T1 connection to the max

Secure Internet Explorer features and the Control Panel applet.

Delete IE Temporary Internet files, history, and index.dat files

Disable unnecessary services


Limitations
3 use limit.

tags

your system the stability increase the and boot subsystem bottlenecks application and reduce subsystem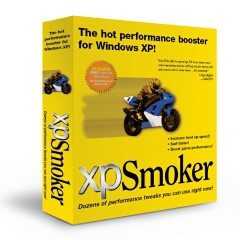 Download XP Smoker 5.6
Purchase:

Buy XP Smoker 5.6
Similar software

XP Smoker 5.6
WareSoft

XP Smoker will allow you to modify some Registry settings .

98/ME Smoker 1.2
Waresoft Software

98/ME Smoker is a Windows 98 and Windows ME tweaking utility that will help to reduce system bottlenecks, decrease boot times and increase system stability.

Vista Smoker Pro 2.7
Waresoft Software

Vista Smoker Pro allows you to change various settings in the Windows Registry.

Registry Smoker 1.7
Waresoft Software

Registry Smoker is a very easy to use yet effective registry cleaner.

Internet Tweak 4.90
Magellass Corp.

With Internet Tweak you will be able to Tune Up Internet Connection and Optimize Internet Explorer Settings.

NETEagle 2.00
ThemeSoft Development

NETEagle is a handy appplication designed to increase your internet connection speed by editing your system's registry and settings in relation to your Operating Platform and can increase your internet connection speed up to 200% or higher.

Smoker's Calc 1.10
PHU NERO

Smoker's Calc is built as a small and user-friendly computer program created for smokers and ex-smokers.

Gopher Smoker .06
PivX Sollutions, LLC

PivX Solutions, LLC released a program appropriately named `Gopher Smoker`.

Speed MASTER 1.0
CTnet Software

Speed MASTER is a software that improves your internet connection speed and prevents you from being disconnected.

Optimizer Rx 1.1
Horizon DataSys Inc

Optimizer RX® is a suite of 6 robust utilities that have been designed to increase the performance and security of PC's.