Vista Smoker Pro 2.7

Vista Smoker Pro allows you to change various settings in the Windows Registry.

Developer:
Waresoft Software
software by Waresoft Software →
Price:
39.00 buy →
License:
Trial
File size:
0K
Language:
OS:
Windows Vista

(?)

Rating:

0

/5 (0 votes)
Vista Smoker Pro allows you to change various settings in the Windows Registry. These settings can improve the performance for your computer drastically.

The service manager included in Vista Smoker Pro will allow you to use service presets to stop and disable services without needing any knowledge.

Vista Smoker Pro includes a One Button Autotuner that will tune your system to perfection based on your system's configuration. Simple for beginners. Powerful for experts.

Vista Smoker Pro includes hundreds of settings in addition for the expert tweaker that likes to get his hands dirty. There are over 100 security settings alone.

With Vista Smoker Pro you will be able to increase performance, increase the security of Windows Vista, and prevent other users from changing your settings.

Plus with the new Vista Smoker Pro User Account Control feature you can adjust the settings for User Account Control in Windows Vista to make it less intrusive yet just as functional, or you can simply change the settings to really lock down security on your PC.

Vista Smoker Pro also has maintena
tags

vista smoker smoker pro you can the settings account control windows vista pro includes your system user account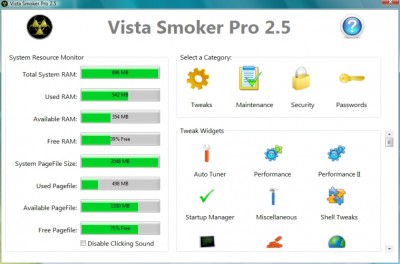 Download Vista Smoker Pro 2.7
Purchase:

Buy Vista Smoker Pro 2.7
Similar software

Vista Smoker Pro 2.7
Waresoft Software

Vista Smoker Pro allows you to change various settings in the Windows Registry.

XP Smoker 5.6
WareSoft

XP Smoker will allow you to modify some Registry settings .

Registry Smoker 1.7
Waresoft Software

Registry Smoker is a very easy to use yet effective registry cleaner.

98/ME Smoker 1.2
Waresoft Software

98/ME Smoker is a Windows 98 and Windows ME tweaking utility that will help to reduce system bottlenecks, decrease boot times and increase system stability.

Smoker's Calc 1.10
PHU NERO

Smoker's Calc is built as a small and user-friendly computer program created for smokers and ex-smokers.

Gopher Smoker .06
PivX Sollutions, LLC

PivX Solutions, LLC released a program appropriately named `Gopher Smoker`.

Windows Easy Transfer 6.0
Microsoft

Windows Easy Transfer is already built into Windows Vista, so it is not necessary to install it on a Windows Vista based PC.

Windows Vista Cd KeyFinder 1.00
Imran Baig

Windows Vista Cd KeyFinder is a tool that helps you manage your windows Vista Cd Keys safely and securely.

Tweaking Toolbox XP 2.1
Windows-Help.Net

Tweaking Toolbox XP is designed for any serious Windows tweaker! Change hundreds of registry settings from Windows XP, improving appearance, performance and functionality.

Vista Transformation Pack 6 Final
Windows X

At last, Vista Transformation Pack has finally come out! Despite the name Vista, you'll get whole new update and more functions.