RichAide 1.00

RichAide has been developed to help people reach finance freedom easily.

Developer:
RichAide.com
software by RichAide.com →
Price:
18.00 buy →
License:
Trial
File size:
0K
Language:
OS:
Windows Vista

(?)

Rating:

0

/5 (0 votes)
RichAide has been developed to help people reach finance freedom easily.
Anyone may well find it a welcome, helpful way to reach your finance freedom.


RichAide features
Personal Finance Management not only help you manage your income and expense, also help you differentiate asset and liability.

To-Do List effective Time Mangement to help you plan daily work and schedule.

Personal Password Management easily track all kinds of password, such as email, forum account, bank acount.


Limitations
30 day trial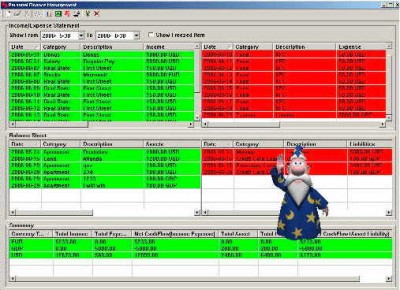 Download RichAide 1.00
Purchase:

Buy RichAide 1.00
Similar software

RichAide 1.00
RichAide.com

RichAide has been developed to help people reach finance freedom easily.

Personal Finance Organiser 1.3
Wdesine Software

Personal Finance Organiser - an easy-to-use, personal finance software tool intended to help you organise all kinds of money issues.

Personal Finance Assistant 1.0
AskFinancing.com

Personal Finance Assistant was developed to let you get the latest personal finance information.

Personal Finance Quizzes 1.0
Sierra Vista Software

Personal Finance Quizzes - do you want to improve your finance aquaintances ? Then this quizz program is for you ! Personal Finance Quizzes - quizzes that will help you get acquainted with terminology used in personal finance.

Personal Finance Calculator 1.0
Personal Finance Calculator

Personal Finance Calculator, Cashflow calculator, calculate your personal finances and sort out your debts.

EasyMoney 1.21
Lenosoft

EasyMoney is a very easy-to-use all-in-one personal finance manager.

Adarian Money 3.8
Adarian Software

Adarian Money is a useful and complete personal finance management program which helps you get control of your money! It helps you to analyze how much you have spent, how much is left available, your net asset and liability, and your net worth.

Home Budget Finance manager 4.07
SoftPerfection

Home Budget Finance manager is designed in the traditional envelope system where you set aside a portion of your income for various expenses.

Account Xpress 3.9.4
Felitec Inc.

Account Xpress is a personal finance manager and budget planner loaded with features designed to help you manage your money easily and efficiently.

SmartMedium FINANCE 2.30
Inobe

Do you want to know where your money goes to and comes from? Do you want to do more with internet banking? Then SmartMedium Finance is a great program for you! With SmartMedium FINANCE you can analyse your income, expenses and budgets.