Icons from file 5.1.1

Extracts icons or icon arrays from files (EXE, DLL, OCX, etc.

Developer:
Vitaliy Levchenko
software by Vitaliy Levchenko →
Price:
0.00
License:
Freeware
File size:
0K
Language:
OS:
Windows Vista

(?)

Rating:

0

/5 (0 votes)
Extracts icons or icon arrays from files (EXE, DLL, OCX, etc.) with ability to scan folders to search for EXE, DLL, OCX files, which contain icons.

Icons from file it lets you to extract icons or icon arrays from files.

You can save extracted icons to file - all or selected icon to ICO, BMP, JPEG, EMF files and all icons as one picture to BMP, JPEG or EMF file. You can print extracted icons (all or selected only).

The program includes a small file browser that allows you to easily find file that contain at least an X number of icons icons.

Saving high color icons (wich have more than 16 colors) is also possible.
tags

you can extracted icons bmp jpeg icons icons dll ocx arrays from from files exe dll icon arrays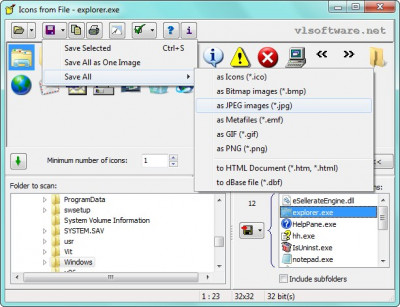 Download Icons from file 5.1.1

Download Icons from file 5.1.1

Similar software

Icons from file 5.1.1
Vitaliy Levchenko

Extracts icons or icon arrays from files (EXE, DLL, OCX, etc.

Picture To Icon 5.1736
exeicon.com

Picture To Icon converts images or any part on your screen into icons, resizes the icon and extracts icons from libraries.

Buddy Icon Grabber 1.04
Icon Grabber Team

Buddy Icon Grabber is a 32 bit utility designed to scan the directories and drives on your computer and extract all icons it finds inside of all exe, dll, scr, ocx, ico, and icl files.

Coffee Find Icons Easy 1.01
Leskysoft Technology

Coffee Find Icons Easy is a small application that will allow you to find thousands of icons in your files, folders and drives and manage icon collections! Search window icons in all your computer files starting with the selected folder.

Pc Icon Extractor 4.3
Program4Pc

PC Icon Extractor allows you to extract all Windows icons include XP icons from inside of EXE, DLL, DRV, OCX, SCR, VBX, ICL, NI, and IL files and save them into BMP, GIF, JPG, TIF, WMF, EMF, PNG, PCX, J2K, TGA, RAS and ICO files.

IconView Pro 3.2
LMHSOFT.COM

IconView Pro is a handy utility to extract icons from EXE, Icon Libraries, DLL and other executable files that contain icon resources.

Any to Icon 3.57
Aha-soft

Any to Icon converts BMP, JPEG, GIF, PNG, PSD, WMF, WBMP, XPM, XBM and CUR formats into Windows icons.

IcoRip 1.0
Andrew Jones

IcoRip is a program that helps you extract icons from any file containing icons.

IceXX 2.0
AX Systems

Exploring the world of Windows with the help of IceXX utility you will discover a great number of various icons that are either contained in files or are associated with them.

Icon Searcher 4.00
SoftPlus

Icon Searcher performs fast scan of all local hard disks for icon images.