Hotkeycontrol 8.3

XPHotkeycontrol XP is a software to customize hotkeys (or single keys) for specific purposes.

Developer:
InchWest.com
software by InchWest.com →
Price:
29.00 buy →
License:
Trial
File size:
0K
Language:
OS:
Windows Vista

(?)

Rating:

0

/5 (0 votes)
XPHotkeycontrol XP is a software to customize hotkeys (or single keys) for specific purposes. It will make any keyboard to work as a Multimedia or Internet keyboard. It can also be used to change volume with On-screen-display or display in tray icon. You can customize your keyboard for almost any action.

Using iOSD, any animated gif file can be used to display the volume status on screen. Also,using iOSD, any bitmap can be displayed on the screen conveniently using hotkeys. You can play/eject audio CD`s,hide/close/keep active window on top or shutdown/restart/logoff your computer. You can also send keystrokes which may be used to type in frequently used text. Also programs can be run with optional command-line parameters thus increasing the program`s functionality.You can also control your browser and any media player with hotkeys.

All these hotkeys can optionally be made active only when a given combination of Num,Caps,Scroll lock are on or off.This helps in reusing the same hotkeys for more than one purpose depending on the lock keys.

The main feature of Hotkey control which makes the program better compared to its rivals is that all the hotkeys are functional even in games and in other full-screen Direct 3D applications. Even the additional keys on your Multimedia/Internet keyboard can be used with Hotkeycontrol XP thus making Hotkeycontrol XP even more useful for people with Multimedia keyboards.

Here are some key features of "Hotkeycontrol XP":

Use additional keys on your multimedia/internet keyboard with Hotkeycontrol

Display of volume and other messages on screen using OSD

Use hotkeys in 3d games too (For ex: change volume while you play)

Display any image or text file on screen with translucency

Run up to 50 programs or open webpages, files, folders via hotkeys

Capture/playback macros to automate keyboard and mouse actions or type frequently used text

Control active windows - hide/show, set always on top, set translucent, close window

Turn off monitor and Eject cdrom drives

Shutdown/restart/hibernate/suspend your computer

Can use single keys such as function keys instead of combination hotkeys

Display list of configured hotkeys on screen by pressing a hotkey

Extend features by using plugins

64-bit execution mode for Windows XP/2003 64-bit editions


Requirements
.NET Framework 2.0


Limitations
15 days evaluation

tags

you can internet keyboard can also additional keys used text your multimedia frequently used with hotkeycontrol multimedia internet shutdown restart change volume using iosd iosd any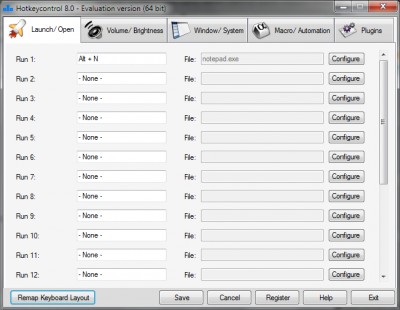 Download Hotkeycontrol 8.3
Purchase:

Buy Hotkeycontrol 8.3
Similar software

Hotkeycontrol 8.3
InchWest.com

XPHotkeycontrol XP is a software to customize hotkeys (or single keys) for specific purposes.

Key Extender 3.9
EasySoft

KeyExtender is a Windows program which can extend you key function.

Keyboard Tweaker 2.3
Alex Buturuga

Keyboard Tweaker is a Hotkeys manager.
Winkey MX 1.0.0.8
Winkey MX Team

Winkey MX is an advanced keyboard hotkeys management application, it allow you to create and manage fast and easy keyboard shortcuts hotkeys for your your favorite URLs, Files, Programs and Windows most used tasks such as power routines, shell exploration Multimedia commands (screen resolution, shell audio volume.

HotKeyz 2.8.3.0
Skynergy

HotKeyz helps the user to work more efficiently and productively.

Keyboard Manager Deluxe 2.20
Polyphony Software

Keyboard Manager Deluxe will provide you with the power to assign shortcuts, text, and objects to over 350 keyboard hotkeys or key combinations for automatic, click-free activation and pasting.

HotKey Manager 1.70
KillProg

HotKey Manager is a free and useful tool that comes with many features.

Active Keyboard 3.1
Drive Software Company

Active Keyboard is a utility that generally accelerates your normal computer workflow.

HideHelper - Hide windows and tray icons 5.3.7
wenkaicai

1.

AutoHotkey 1.0.44.07
Chris Mallett

Customize your keyboard, joystick, and mouse with an open source scripting language (AutoHotkey) that is backward compatible with AutoIt v2.