FRSGiftRegistry 2.0.0

FRSGiftRegistry is a software tool that allows you to maintain a gift registry.

Developer:
Fourth Ray Software
software by Fourth Ray Software →
Price:
399.00 buy →
License:
Trial
File size:
0K
Language:
OS:
Windows Vista

(?)

Rating:

0

/5 (0 votes)
FRSGiftRegistry is a software tool that allows you to maintain a gift registry. The application is intended for retail storeowners who currently are, or would like to start, maintaining a baby, bridal, house warming, birthday, or other kind of gift registry.

In the context of FRSGiftRegistry, a registry is a document maintained by the store. It lists a person's name, his or her event date, and a collection of products that person would like to receive on or before that event date.

A registry event in Western cultures is typically the birth of a new child, a wedding, a birthday or religious occasion, or any other special circumstance. The products listed in the registry are the ones sold by the store. The store's service is typically offered at no charge to the registrant.

You can enter any number of Registrants, Registry Events, and lists of products associated with the event. If, for example, a couple has children, your store can maintain more than one Registry for that couple, one for each baby, each with its own list of products. Since FRSGiftRegistry is a generic gift registry application, you can track any kind of special event your store offers.


FRSGiftRegistry features
Reports
FRSGiftRegistry has a collection of printable reports that you can use to hand out to customers in the your store, and for your own record-keeping.
Web Site Integration

One key feature of FRSGiftRegistry is its ability to create web content of your gift registry data. These pages can be seamlessly integrated into your existing web site, even if you have someone else maintain your web site for you.
Database Support

If you maintain your store's inventory in a database*, FRSGiftRegistry can communicate with that database to access the latest product description and retail prices. This way FRSGiftRegistry's reports and, optional, web content are always up-to-date.
Importing of Data

You can, of course, manually enter in product listings. However, if you already have this data in a text file, or you can export it into a text file, FRSGiftRegistry can import it. That would save you a lot of tedious typing. The application also supports importing indirectly from hand-scanner generated files*.


Requirements
FRSGiftRegistry requires about 7Mb of storage space on your disk drive. We highly recommend a high color-depth display (standard for most recent computers).


Limitations
15 days trial

tags

you can gift registry your store the store web site frsgiftregistry can text file maintain your web content the application event date would like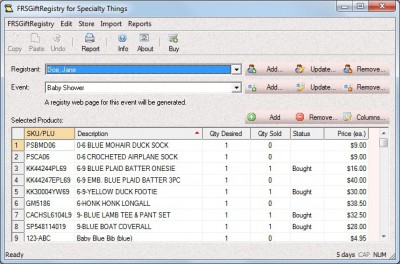 Download FRSGiftRegistry 2.0.0

Download FRSGiftRegistry 2.0.0

Purchase:

Buy FRSGiftRegistry 2.0.0
Similar software

FRSGiftRegistry 2.0.0
Fourth Ray Software

FRSGiftRegistry is a software tool that allows you to maintain a gift registry.
FRSProductPages 1.0.1
Fourth Ray Software

FRSProductPages is a software tool that automatically creates web site pages for your store's products.

Riverbit Registry Cleaner 1.1
Riverbit Software Limited

Riverbit Registry Cleaner is an advanced registry cleaner that will fast and effectively solve any problems with your registry.

ADEX Registry 2.5.1
Vyapin Software Systems Private Ltd.,

ADEX Registry is a COM component that enables application developers of Microsoft technology to access the system registry from their application code.

Abexo Registry Cleaner 5.3.1
ABEXO

What is Abexo Registry Cleaner? Abexo Registry Cleaner is a software that makes your computer run smoother and faster.

Abexo Free Registry Cleaner 1.1
Abexo

What is Complete Registry Cleaner? Complete Registry Cleaner is a utility software to make your computer run smoother and faster.

MyListMate 2.50.2
Castle Software Ltd

MyListMate is designed to save you time and money with your grocery shopping !!! MyListMate is a clever and easy-to-use grocery shopping list manager which will help you prepare and budget for your grocery shopping.

GiftBox Plus 4.5.9
WakefieldSoft, LLC

GiftBox gives users complete gift idea and gift tracking program for Palm OS handhelds, Pocket PC or Windows Mobile handhelds, and Windows PCs.

RegDefend 2.001
Ghost Security

RegDefend is a kernel based registry protection system, designed to use as few resources as possible.

Registry Jumper 2.0
Eolsoft

Registry Jumper is a little and easy to use application which will enable you to quickly jump to a specific registry path, without having to navigate there with RegEdit.