dotNet Protector 6.0.6073

dotNet Protector is a powerful .

Developer:
PV Logiciels
software by PV Logiciels →
Price:
399.00 buy →
License:
Shareware
File size:
0K
Language:
OS:
Windows XP/Vista

(?)

Rating:

0

/5 (0 votes)
dotNet Protector is a powerful .NET code protection system that prevents your assemblies from being decompiled. With dotNet Protector, your application is not simply obfuscated, but merged in a Win32 native executable; Console exe, windows exe and windows services can be protected.

You can protect a whole application (main exe, referenced dlls and resource localisation dlls) in a single executable. Your .NET code will run entirely from memory, without temporary disk storage.

Protection can be done interactively with an intuitive graphical interface, or automated, using the command-line functionalities of dotNet Protector.

dotNet Protector includes a powerful hardware sensitive anti-piracy system and extensions to help you develop your own software activation system. dotNet Protector is self-protected and uses its internal software activation system.

Even multi-domain applications can be fully protected. dotNet Protector includes extensions permitting in-memory execution in another domain.


Requirements
1 GHz CPU, 256 MB RAM

tags

dotnet protector activation system software activation protector includes net code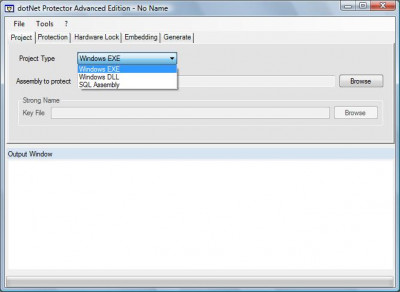 Download dotNet Protector 6.0.6073

Download dotNet Protector 6.0.6073

Purchase:

Buy dotNet Protector 6.0.6073
Similar software

dotNet Protector 6.0.6073
PV Logiciels

dotNet Protector is a powerful .

WinUtilities EXE Protector 4.71
YL Software

WinUtilities EXE Protector is a tool designed to help you protect any executable file with a password so that only you can launch it.

AntiCrack Software Protector Basic 1.09
AntiCrack Inc

AntiCrack Software Protector is a dll exe protection and dll exe compression tool.

EXE Password Protector 1.1
ELTIMA Software GmbH

EXE Password Protector is a security software for Windows OS that helps you password protect any .

Program Protector 4.11
Karlis Blumentals

Program Protector is a great security software which will allow you to password protect any Windows program.

DotNet Code Library 2.1.0.212
OverZone Software



Phoenix Protector 1.0.0.1
NTCore

Phoenix Protector is a protection software for .

ID Disk Protector 1.2
ID Security Suite

ID Disk Protector is a very useful program that protects your computer against unauthorized access.

Abtrusion Protector 1.1
Abtrusion Security AB

Abtrusion Protector prevents Windows from running application that has not been safely installed.

SVK Protector 1.32
AntiCracking

SVK Protector is a powerful tool offering both software developers and distributors a protection of their software products against unauthorized copying, use and distribution.