programming › other programming files

free software

CoolButton 2.4.0
Brew City Software

Tired of the boring button control that comes with Visual Basic 6? Now you can replace it with our CoolButton control with multiple styles and configurations that mimic the more user-firendly buttons seen in the MS Office products.

CTEXT 2K.232
Dennis Bareis

If you are like me you are not happy that windows does not support ANSI color codes on the command line.

Digital 5.2.43
Brew City Software

Digital allows you to add digital counters, timers and display capabilities to your applications WITHOUT using a timer control.

Fastform 3.7.32
Brew City Software

Fastform is a true resize and form design control.

ubGrid 1.0.12
Brew City Software

ubGridX is the ultimate in easy-to-use grid functionality and capability! ubGridX is an standalone unbound grid allowing the user to edit cells using various mask including numeric only, date only, and more.

Zend Optimizer 3.02
Zend Technologies Ltd

The Zend Optimizer is a free application that will run the files encoded by the Zend Guard, while enhancing the performance of PHP applications.

File Analyzer 1.6 12.10.2002
Vadim Tarasov

File Analyzer is a software application that can identify the format of a file, with what it was compiled, encrypted, packed, etc.

Sax.net SmartUI
Sax Software Corp.

Sax.

SearchSites 3.6
SharewarePromotions Ltd.

SearchSites is a free, time-saving tool for software developers.

PHP Processor 1.5.0.3
GridinSoft

PHP Processor is designed to help you protect your intellectual property when distributing PHP source files.

NativeJ 4.7.11
DobySoft

NativeJ generates Win32 native launchers for your Java applications.

Viewtier Devenv 2.3.1
Viewtier Systems

Viewtier Devenv - Development Environment setter and validator Devenv is a simple yet powerful command-line utility that allows software development teams and software developers set and validate their common development environment.

Bersoft HTML Print 9.09
Bersoft Inc.

HTMLPrint is a program used for printing HTML and image files from other applications or to print automatically incoming files in a specific directory.

Hyper Hasher Suite 6.0.4
Matt LaPlante

Hyper Hasher is a small utility that allows you to calculate hash/checksum values for any file on your system, or text string.

PAD Creator 2.0.1
Hotlib.com

Create and manage your PAD files fast and easy with PAD Creator! Just fill in your products information and save.
blueshell Error Guy 0.2.27
HvB Computer Engineering

blueshell Error Guy : you really need it! If you have any calls to user-defined functions or subs in your code (have you ever seen another program?), you need to be very aware of this feature of Visual Basic's error handlers; it can cause control to unexpectedly jump into your calling procedure's error handler.

TestLog 3.0 build 1004
PassMark Software

TestLog - one of the most important elements in today's software development life cycle is a well organized test phase.

PDFtoolkit VCL 2.50
Gnostice Information Technologies Private Limited

PDFtoolkit is a useful tool designed for Borland Delphi and Borland C++Builder to manage, manipulate, view, print, enhance PDF documents and process PDF eForms.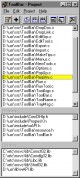 Programmer's IDE 2000 3.2
Gregory Braun

Programmer's IDE 2000 is a small utility that creates an integrated development environment (IDE) for C/C++ and Assembly language programs and libraries.

JspISAPI 1.0
NeuroSpeech Technologies

JspISAPI is developed by NeuroSpeech, it is an ISAPI dll which runs under IIS 4.

SDE for IBM WebSphere (PE) for Windows 4.0 Professional Edition
Visual Paradigm

SDE for WebSphere is a UML CASE tool totally integrated with WebSphere.

NTSet 1.15b
SaM-Solutions

NTSet is a powerful collection of components for Delphi/C++Builder that implement specific features of Windows 2000/NT.

AfalinaSoft XL Report for Delphi 4.2.123
Afalina Co., Ltd.

EXCELlent reports with minimal coding.

Leap SE 4.0
Leap Systems

Leap SE is an advanced requirements engineering case software that produces object-oriented models directly from a system requirements specification or repository (SRS).

AVUSBD 2.1
Virtualserialdriver Dpt. AlarIT LLC.

There is a number of the equipment controlled through a serial port from a PC or a terminal.