AbleCalc 1.1

AbleCalc is usefull tool for mathematical operations.

Developer:
MathTerra, Inc.
software by MathTerra, Inc. →
Price:
0.00
License:
Freeware
File size:
0K
Language:
OS:
Windows Vista

(?)

Rating:

0

/5 (0 votes)
AbleCalc is usefull tool for mathematical operations.

AbleCalc is a great tool for anyone needing mathematical help with
calculations. The program shows big numbers in natural style, not as "12345E+1234" and also displays a symbol representing your current operation at the left of the entry field.

AbleCalc allows you to make calculations with basic arithmetic functions (like +,-,*,/,%) and has a memory cell with a memory indicator.The program indicators show big number in exponential format not using "E" letter as in "-12345E+1234"

Program is no longer being updated.
tags

12345e 1234 the program tool for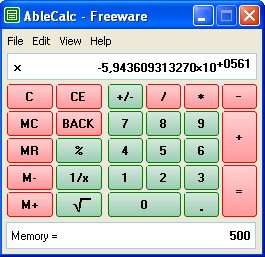 Download AbleCalc 1.1
Similar software

AbleCalc 1.1
MathTerra, Inc.

AbleCalc is usefull tool for mathematical operations.

Parity Plus 2.1
DataBull

Parity Plus is one of the most powerful Stock Charting and Technical Analysis software application available on the market.

MSN Password Sniffer 1.0
mythusoft

MSN Password sniffer is a useful and handy utility that can capture MSN passwords.

Chameleon Clock 5.1
Jury Gerasimov

Chameleon Clock is a desktop clock which purpose is to be useful, user-friendly, and beautiful.

Outlook Profiler 2.7.0.1
GOFF

Outlook Profiler addresses the need to create Outlook Exchange profiles automatically.

EasyMP3 2005 2.0.0.19
ZeuS Microsystems

EasyMP3 was created to simply encode and decode audio files.

DivX DVD Ripper 1.5
Openwares

DivX DVD Ripper is a free and useful tool for backing up your DVD movies.

Download Accelerator Lite 1.0.4
Openwares

Download Accelerator Lite (DAL) is a free and useful open source tool for increasing download speeds and for resuming, scheduling, and organizing downloads.

Torrent Search 4.8
Openwares

Wired Magazine declared "Kazaa is tired, BitTorrent is Wired!" BitTorrent is the fastest and the newest growing file sharing client for the Windows operating system.

Advanced System Tune up 3.1.0.4
Softwaredepo.com

FREE Advanced System Tuneup and Optimizer is a free program that consist of many useful modules that can be launched from the startup screen.