1Way 6.32

Convert any application into time-limited shareware.

Developer:
Atma Software
software by Atma Software →
Price:
39.00 buy →
License:
Shareware
File size:
0K
Language:
OS:
Windows Vista

(?)

Rating:

0

/5 (0 votes)
Convert any application into time-limited shareware. A function library offering a flexible locking system with solid encryption. Generate serial numbers to register your application. Test program included. Easy to implement. Support for VB, C++, Delphi, other languages. AES (Rijndael) 256 bit encryption.

Features:

AES (Rijndael) 256 bit encryption used throughout

Works on all 32-bit versions of Windows

Checks for system date being changed back

Registration can be permanent, or can expire on a particular date

Serial number itself can optionally expire

Send information to the application via the serial number

Keep track of the number of times application has been run

Save your own encrypted information

C: Drive serial is recorded to prevent information being moved to another machine

High level of security, easy to implement, very flexible

tags

serial number bit encryption 256 bit rijndael 256 aes rijndael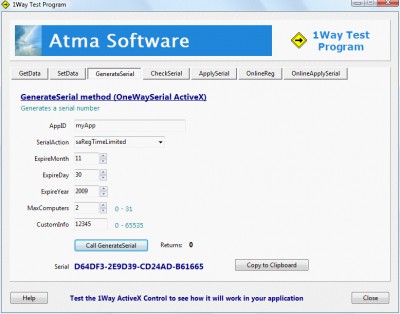 Download 1Way 6.32
Purchase:

Buy 1Way 6.32
Similar software

1Way 6.32
Atma Software

Convert any application into time-limited shareware.

Incremental Serial Number Printer 1.0.0.7
Dave Perison

Incremental Serial Number Printer is a software application that can help you easily print serial numbers.

GetDiskSerial.DLL 4.0.0
Devlib,Inc.

GetDiskSerial.

Serial Number Control 1.0
Simon Jefferies

Serial Number Control is a useful .

AS HDGET WIN32 DLL 2.1
AS Computer Software

Get IDE HDD model, serial and revision number for all IDE drives in a system.

Obsidium 1.3.3.4
Obsidium Software

The Obsidium software protection and licensing system will allow you to protect your program from unauthorized modifications (i.

WTM Register Maker 3.0
Imp Hanspeter

WTM Register Maker is a simple tu use application which will help you protect your software with serial numbers and with Software Licensing System.

Serial Port Mapper 1.5
FabulaTech Inc

Serial Port Mapper is a very useful tool that allows you to map any serial ports to any other serial ports.

All My Software 1.6 free
Bolide Software Inc

Do you ever lose any registration information for purchased software? Are your serial numbers, passwords etc.

Serial Com Port Monitor 5.0
com-port-monitoring

Serial Com Port Monitor will display, logs and will analyze all serial data exchange between serial devices and any application.