WinSpeedUp 2.9

WinSpeedUp is a tuning and optimizing program for Windows.

Developer:
Script Soft
software by Script Soft →
Price:
19.00 buy →
License:
Shareware
File size:
0K
Language:
OS:
Windows Vista

(?)

Rating:

0

/5 (0 votes)
WinSpeedUp is a tuning and optimizing program for Windows.
With WinSpeedUp you get access to hidden sytem options with which you can accelerate and improve Windows.

Programs are started faster, the harddrive is cleaned up and the sytem start gets shortened and you can get further information about your computer. You can deal with settings which the original Windows surface merely reveals by a long way round.

With WinSpeedUp you adjust Windows to your needs and accelerate your internet connection.


WinSpeedUp features
- Accelerate Windows start up
- Clean up harddrives
- Tune start files
- DirectX information
- Accelerate autostart
- Edit start menu
- Start programs faster
- Information about Windows
- Adjust user defined restrictions
- Increase internet performance
- Clean up Registry
- Uninstall programs
- Set Windows logos
- Repair Windows
- Hide drives
...and much more hints and settings

tags

you can information about winspeedup you with winspeedup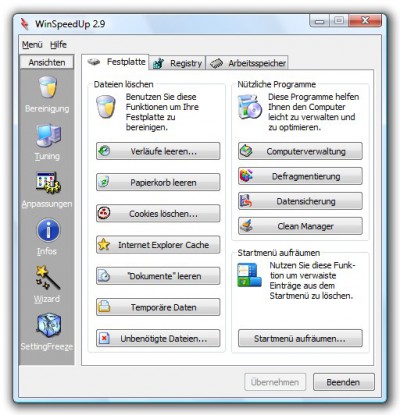 Download WinSpeedUp 2.9
Purchase:

Buy WinSpeedUp 2.9
Similar software

WinSpeedUp 2.9
Script Soft

WinSpeedUp is a tuning and optimizing program for Windows.

Webroot Accelerate 4.0
Webroot Software

Slow Internet connection speeds can be frustrating, and the hardware upgrades necessary to speed your system up can get very expensive.

Systerac XP Tools 6.02
Systerac XP Tools

Systerac XP Tools present ten valuable tools that help you tweak your windows xp for optimum performance.

Registry Sweeper 1.8
SpeedBin Software

Do you often download and install software from the Internet and uninstall it after a while? Many uninstall programs, however, can't completely remove everything from your computer as you believe - information written into the registry by the application may still remain there - by and by your registry file will be larger and larger, your system will be slower and slower, or even run into malfunctions.

XPepius 3.1.0
Yaser Rajabi

XPepius is a tools suite for tweaking, optimizing, tuning and cleaning of Windows XP.

BoostXP 2.00
Systweak

Boost XP is a comprehensive and easy-to-use Windows 98, ME, NT, 2000 and XP utility that lets you fine-tune Windows, Internet Explorer and enhance personal computer experience.

HS WinPerfect 6.22
Yenicag Bilisim Ltd

HS WinPerfect is a useful windows system optimizer that cleans hard-disk and system registry, optimizes memory, tunes-up system specific settings, accelerates internet connection, improves cpu usage, manages security and backup issues and uninstalls software no longer wanted.

Startup Firewall 2.0
Innovative Solutions

Innovative Startup Firewall protects your computer from programs that insert themselves into the Windows startup in order to start automatically when you start your computer.

PC Accelerate 3.0
NTechnologies Inc

PC Accelerate increase priority foreground window and optimize memory status Each working program has its priority.

BeClean 1.4
Budy Setiawan Kusumah

BeClean is a full packaged application which consists in some very useful system cleaning tools: Registry Cleaner, Internet Cleaner, History Cleaner, Temporary Files Cleaner, Disk Cleaner, Desktop Cleaner and Start Menu Cleaner.