US Box Office 1.0

Stay up to date with hottest movies showing in cinemas across US.

Developer:
KrstDesign
software by KrstDesign →
Price:
0.00
License:
Freeware
File size:
0K
Language:
OS:
Windows Vista

(?)

Rating:

0

/5 (0 votes)
Stay up to date with hottest movies showing in cinemas across US. This screen saver will show you the latest US weekend box office numbers for the top ten movies with movie posters and cast overview. Data are updated automatically on a weekly basis.
tags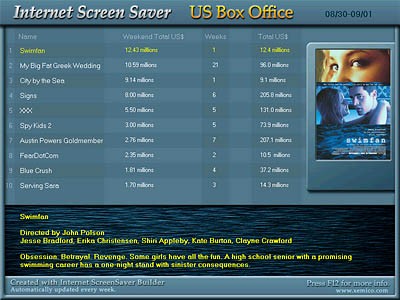 Download US Box Office 1.0
Similar software

US Box Office 1.0
KrstDesign

Stay up to date with hottest movies showing in cinemas across US.

Movie Trailer Screensaver 1.8
Light Screen Media

Like movies? Like movie trailers? Download the Movie Trailer Screensaver and you will be able to watch the latest movie previews on your computer.

Sorta Movie Screen Saver 1.0
Matthew Nuckols

Since we know how boring some screen savers can become, we decided to develop a screen saver that will play your movies.

Flash Screen Saver 5.1736
exeicon.com

Flash Screen Saver will play flash movies as screensaver.

SoraeMovies 2.0.45
Eneko Alonso

SoraeMovies will help you organize your movies and clasify them automatically by nationality, rating, director, starring, format.

Cinema Premiere Deluxe Movie Manager 1.1
Cinema Premiere

Access your movie manager from any PC with an internet connection and playback movie files on your local PC or any PC on your network.

Easy Morph 1.60
FinchSoft

Easy Morph is a useful and amazing tool that can create digital movies by using two still images.

CamFlash 1.0
Camtech 2000

With CamFlash you will never have to buy another Screen Saver again!! There are hundreds of free Flash Shockwave movies available on the internet and CamFlash is a program that will let you use those movies as Screen Savers.

d2J Movie Database 1.8e
Jetro Suni

d2J Movie Database is a small easy-to use program to organize your movie collections.

Movie Catalogue 4.02
Graphicalic

The complete organizer for all your movies.