Tray Helper 5.2

It's SMALL Windows program that takes only ONE place next to your tray system clock, "eats" a little of memory and CPU power.

Developer:
Irek Zielinski
software by Irek Zielinski →
Price:
0.00
License:
Freeware
File size:
0K
Language:
OS:
Windows Vista

(?)

Rating:

0

/5 (0 votes)
It's SMALL Windows program that takes only ONE place next to your tray system clock, "eats" a little of memory and CPU power.


Tray Helper features
track if / when and how many times your e-mails are read.

remind YOU about all YOUR meetings, important events, birthdays etc..

check all YOUR e-mail accounts (up to 100 !) in background

auto-delete spam messages on that accounts

forward important emails to your mobile device

build in auto-responder can auto-repply at all incomming mai

watch your browser's windows and kill all unwanted pop-ups

take advantage of Tray helper's plugins (look below)

There is support for MS agent technology - you can be notified about new mail, events ect - by live, 3d, speaking, cool characters

Tray Helper is secure - you can set a password and no one will be able to view your e-mails, events, etc.

all your reminders (about meetings, birthdays etc...) can be forwarded to your mobile device

List of plugins currently available to work with Tray helper:

Small WWW server - changes your PC to small WWW server in less than one minute!

Atom time clock synchronizer - synchronize clock of YOUR PC with atomic time server.

Tasks - just a TO DO list :)

Notes - forget about yellow sticky notes around your work-place.

Pinger - it tracks presence of computers in YOUR LAN or Internet and do some actions when it changes

WebSpy - it can track changes on www pages and inform you about it.

tags

tray helper all your www server small www you can your mobile you about birthdays etc mobile device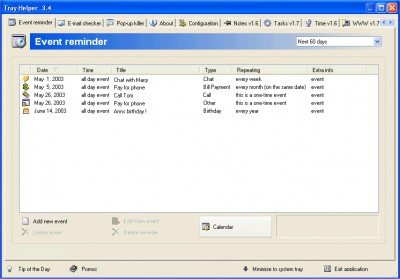 Download Tray Helper 5.2
Similar software

Tray Helper 5.2
Irek Zielinski

It's SMALL Windows program that takes only ONE place next to your tray system clock, "eats" a little of memory and CPU power.

Atomic Alarm Clock 6.25
Drive Software Company

Atomic Alarm Clock is a useful application that will alert you for important events with different alarms and replace your Windows tray clock using different skins.

Trouts Talking Internet Clock 2.3
Chemware Ltd

* Liven up & personalize your desktop with an Analog Clock face using any picture you like * Add an analog clock to your system tray * Remember Birthdays, Anniversaries, Appointments, Meetings etc with a Message, Song, Multimedia Presentation or a Microsoft Agent character * Set applications to run later * Make sure your computer has the right time - Synchronize with Internet Atomic Clocks and Time Servers or set it offline.

WinReminder 2.0
SoftLogica LLC

WinReminder is designed to help you keep track of upcoming events through the pop-up window reminders, e-mail or SMS messages.

Remind! 12.0.0
Crystal Office Systems

Remind! is a useful and versatile award-winning desktop accessory which offers a lot of features.

Amazing Mail Checker
Liquid Mirror Enterprises

Amazing Mail Checker allows you to check all your mail accounts from the system tray automatically for free!!! The Amazing Mail Checker is a small free utility that runs in your system tray (the area next to the clock on your computer.

PopMan 1.3 Beta 13
Christian Huebner

PopMan is a POP3 manager and notifier.

Personal Helper 2.1
Tiger Working Group

Personal Helper is a Personal utility software, you can use its mini notes just like using the notebook on your table ,store your info conveniently anytime as you want! Personal Helper is also an alarm clock by which you will never miss important parties! You even can customize the windows taskbar clock, change its display, background and the text colors what ever just throw the old face off! By a easy click you can adjust your clock be a atomic clock synchronized with the astronomical time.

Birthday Reminder 1.05 build 25.3
Noel Danjou

Birthday Reminder is a small program that takes place in the system tray.

Natty 1.05
Sheep Productions

Natty is a very small system tray utility that runs in the background.