Total Control 2.3

Optimize and tweak Windows and Internet speed.

Developer:
Inspired Creations
software by Inspired Creations →
Price:
29.00 buy →
License:
Shareware
File size:
0K
Language:
OS:
Windows Vista

(?)

Rating:

0

/5 (0 votes)
Optimize and tweak Windows and Internet speed.Optimize your system for maximum speed and reliability.
Hundreds of hidden settings are in your hands now, in a unique, easy to use graphical user interface (GUI).

More than 250 useful settings in 10 panels, allows you to customize and boost Windows 98/98SE/ME by 40% and triple the Internet speed.
Total Control is based on "system secure" principles, which means that respects your system`s safety by performing several tests before applying any changes, while providing the ability to restore your system at any time.

Change the way Windows looks, customize your system`s behavior, add/hide menus, customize Internet Explorer, configure and speed your browsers and connections, fix Windows options, change all your system and drives` icons and finally dive deeper into your system and boost your Windows performance by configuring memory and critical settings.

In addition, six addins for Total Control are available for free by installing this software.


Limitations
It never expires but in the unregistered version, some settings will not be saved.
tags

your system system and your system`s and boost internet speed total control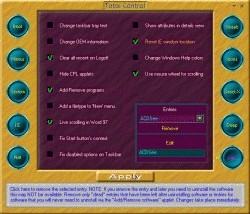 Download Total Control 2.3
Purchase:

Buy Total Control 2.3
Similar software

Total Control 2.3
Inspired Creations

Optimize and tweak Windows and Internet speed.

Tweak Genie 6.0.1
Euro Software

Tweak Genie is the most powerful tweaking software application for Windows with more than 1 essential and easy to perform tweaks! Tweak Genie will assist you to manipulate the hidden settings of windows according to your requirements.

System Cop 1.1
Mahaon soft

What is System Cop ? As we know, the Windows operating system has a lot of "hidden" settings that can be changed only with the help of special programs.

Internet Tweak 4.90
Magellass Corp.

With Internet Tweak you will be able to Tune Up Internet Connection and Optimize Internet Explorer Settings.

WinBoost 4.90
Magellass Corp.

WinBoost has registered user in 100+ countries and recommended by many reviewers and top computer magazines, such as Computer Shopper, PC Computing, PC World and InfoWorld.
OptiNet 1.2 Build #1
Ran Geva

OptiNet is a sophisticated utility that tweak your system settings to boost the speed of your network and internet connection.

BoostXP 2.00
Systweak

Boost XP is a comprehensive and easy-to-use Windows 98, ME, NT, 2000 and XP utility that lets you fine-tune Windows, Internet Explorer and enhance personal computer experience.

Omniquad Set Me Up 3.5j
Omniquad Ltd

Get the most from your Win95/98/ME computer with over 80 runtime enhancements, settings and tools covering system boot, Windows graphics, sound, system maintenance, file encryption, crash protection and recovery, Internet Explorer, new Windows 95/98/ME and general security enhancement User interface and help.

PC Power Optimizer Lite 1.00
Systweak Inc.

PC Power Optimizer Lite is a utility that helps you to customize Windows XP as per your requirements.

Internet Cyclone 2.28
Iordache Daniel

Internet Cyclone is a very useful and complex optimization utility that comes with many features.