Net Profile Switch 7.0

JitBit Net Profile Switch allows storing and switching between two or more network configurations.

Developer:
JitBit Software
software by JitBit Software →
Price:
29.00 buy →
License:
Trial
File size:
0K
Language:
OS:
Windows Vista

(?)

Rating:

0

/5 (0 votes)
JitBit Net Profile Switch allows storing and switching between two or more network configurations. Configuration includes TCP/IP-settings of your network interface and Internet Explorer proxy settings.

Net Profile Switch is a must have tool if you are always on the run.

Use your computer on multiple networks! Assume you have a DHCP-enabled network at your office, and a static IP-address assigned to your network card at home.

Every time you connect your notebook or laptop to a new network you have to change network-adapter settings manually. But it would a thousand times easier to store two profiles (called "office" and "home") and switch between them.

If you deal with two or more locations, you can benefit from this net switcher utility that creates a profile with your configuration settings. Then you can easily switch between locations by activating a profile.

Lightweight and stable: Net Profile Switch uses Microsoft Windows native instrumentation of managing network settings. The tool is extremely small, installation package size is only 75 kb.


Net Profile Switch features
Switch IP network settings "on the fly" without restarting

Switch IE, Firefox

tags

net profile profile switch you can network settings switch between you have your network office and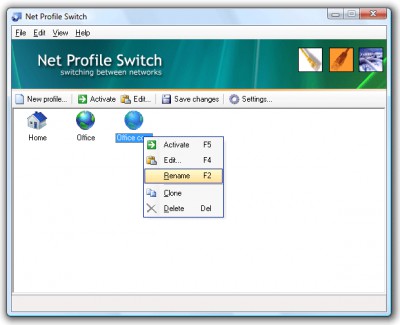 Download Net Profile Switch 7.0

Download Net Profile Switch 7.0

Purchase:

Buy Net Profile Switch 7.0
Similar software

Net Profile Switch 7.0
JitBit Software

JitBit Net Profile Switch allows storing and switching between two or more network configurations.
Otaku NetSet 1.1
Otaku Software

Stress-free network configuration.

Net Switch 2.1
Net Switch Limited

Net Switch is a modern multi network manager, which helps you change network settings and switch between different networks easily.

Easy Net Switch 6.7.0
ZHL Computing Software

Easy Net Switch is a powerful and easy to use application which stores network and Internet configuration settings into location profiles.

Mobile Net Switch 3.62
R. Huijgen

Mobile Net Switch is a network switch utility, also named as multinetwork manager or netswitcher and enables you to create multiple network profiles.

Plug and Browse 7.0
Interactive Studios Inc.

Plug and Browse is an utility for notebook users who need to access the internet or a LAN from different locations.

Network Profile Manager 1.0.1
Strideway

Network Profile Manager offers a simple and fast approach to managing network settings on your PC.

Network Switcher 1.0
Ricardo Amaral

Network Switcher is a small and simple tool with an intuitive interface which allows you to configure your computer network cards and switch between configurations through the use of profiles.

Select-a-Net 4.1.1 beta 2
Digerati Technologies, LLC

If you use a laptop to connect to multiple networks or switch among multiple browser/proxy settings, then Select-a-Net is for you! What can Select-a-Net do for you? - It allows you to easily store and retrieve your PC's network settings to and from a configuration file making it easy to move your laptop/PC from one network to another.

Network Configuration Management 4.77
Missilesoft

Network Configuration Management is a set of utilities that manage network config, diagnose and monitor network, it includes an IP Manager that creates different TCP/IP settings profiles and switch between them instantly without reboot.