InControl 3.0.03

With the installation of more and more applications Windows becomes slower and slower.

Developer:
Virtuoza
software by Virtuoza →
Price:
29.00 buy →
License:
Shareware
File size:
0K
Language:
OS:
Windows Vista

(?)

Rating:

0

/5 (0 votes)
With the installation of more and more applications Windows becomes slower and slower. InControl is a program that will help you control what is started on Windows startup.


Put your Windows on a low-carb diet! You need a startup manager and InControl is the most powerful and easy to use start up manager ever!
Manage and cleanup the applications starting up with Windows.

You can add new items to the startup or edit the settings of the ones already there.

Add a program to the Black List and forget about it. InControl will make sure this application never bothers you again. Don't worry about mistakes. The History Viewer remembers all the changes you make and you can go back to any of the previous states of the list at any time.

Heal the wounds your Windows got fighting evil programs with the Heal My PC feature.


InControl features
remove unwanted applications thus speeding the startup process considerably

keep these applications not starting by using The Black List feature

get rid of all 'dead' entries in the startup list

edit, execute and do whatever you want with these applications in only few clicks

do much, much more...

tags

the startup black list these applications the black with the you can your windows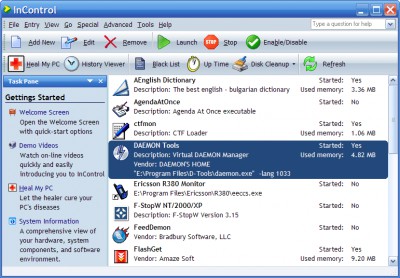 Download InControl 3.0.03
Purchase:

Buy InControl 3.0.03
Similar software

InControl 3.0.03
Virtuoza

With the installation of more and more applications Windows becomes slower and slower.

Chameleon Startup Manager 2.65
NeoSoft Tools

Want your PC to startup and operate faster? Chameleon Startup Manager is a Windows startup manager that accelerates Windows startup and ensures smoother running of the operating system.

1st Startup Manager 1.0
1stdesktop.com

1st Startup Manager helps manage your startup applications and provides information on programs that run when you start up Windows.

Simple Startup Manager 1.17
FilesWeb.com

When Windows starts it may automatically launch a number of additional programs.

Absolute StartUp 6.0
F-Group

Absolute StartUp manager helps you to handle Windows autorun programs.

Absolute StartUp Home 5.1
F-Group Software

Startup monitor provides the startup manager, startup delay and startup programs sequence for Windows startup.

StartUp Manager 1.3.2.70
Helmsman

StartUp Manager - take control of your PC and easily turn off any program that starts with Windows -- even those that don't appear in the Windows Startup folder! Improve your PC performance! Benefits of StartUp Manager: - View and select the programs that are running in the background and starting with Windows.

ID Startup Cleaner 1.2
ID Security Suite

ID Startup Cleaner is an essential utility that provides the opportunity to control, manage and optimize items in Windows Startup.

Quick StartUp 5.3.1.96
GlarySoft Inc

Quick StartUp organizes applications that auto-run using Registry, Startup folders in the Start menu and Win.
EF StartUp Manager 21.04
EFSoftware

EF StartUp Manager - When starting Windows, a number of other programs are also started.