EditPad Pro 8.1.2

EditPad Pro is a powerful and versatile text editor or word processor, designed to make text editing as convenient as possible.

Developer:
JGsoft - Just Great Software
software by JGsoft - Just Great Software →
Price:
49.00 buy →
License:
Shareware
File size:
0K
Language:
OS:
Windows Vista

(?)

Rating:

0

/5 (0 votes)
EditPad Pro is a powerful and versatile text editor or word processor, designed to make text editing as convenient as possible.

EditPad Pro will help you write and edit all your plain text files such as source code, logs, scripts, web sites, memos, letters, reports, articles, etc.

Edit text documents more comfortably with EditPad Pro's tabbed layout, live spell checking, column editing, extensive clipboard and block editing abilities, project files, word count and other statistics, text wrapping and unwrapping, opening all files from certain folders, alphabetic sort, bookmarks, character map, etc.

Supports all languages, including Far East languages.

Write source code more easily with EditPad Pro's syntax coloring, search and replace with regular expressions, DOS/Windows/UNIX and ANSI/Unicode conversions, running external applications or scripts, persistent and rectangular selections, hexadecimal mode, integrated diff to clearly compare files, auto and block indent, line numbers etc.

Adjust your text editors to your tastes and habits.

EditPad Pro is extremely configurable, with many options specific per file type. Download or create syntax coloring schemes for any programming language or file format.

Unlimited file size and line length. Unlimited undo and redo, even after saving.


EditPad Pro features
No worries about Windows, Unix/Linux, Mac or mixed line break styles.

Convert UPPER, lower, Title and iNVERTED case.

Versatile block and clipboard functions and options for moving and copying blocks of text.

Clip collection to store and instantly reuse text snippets and templates.

Unlimited undo and redo save your day.

Compare two versions of one document (diff).

Easily work with many files using the tabbed layout instead of traditional overlapping windows.

Quickly (re-)open files via history lists, favorites, projects, etc...

Make your text editor work the way you want, rather than the other way around.

Powerful search and replace.

Edit every kind of text file.

And much more!


Limitations
The difference between this free evaluation version and the full version is that the evaluation version will remind you to purchase your personal license key if you wish to continue using EditPad Pro. All of EditPad Pro's features are available in the evaluation version, except for the spell checker (to reduce the download size of the evaluation version) and the configurable print headers (the headers in the trial version are fixed, reminding you to purchase EditPad Pro).

While you can use the custom syntax coloring schemes you can download with the trial version, the separate application for creating your own coloring schemes is not included.

The free evaluation version comes with complete documentation, including a printable manual in PDF format. If you want, you can read the EditPad Pro manual without downloading and installing the trial version.

tags

editpad pro evaluation version the evaluation trial version you can the trial coloring schemes syntax coloring and the and block version and tabbed layout text editor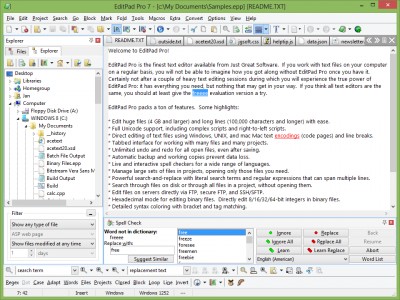 Download EditPad Pro 8.1.2
Purchase:

Buy EditPad Pro 8.1.2
Similar software

EditPad Pro 8.1.2
JGsoft - Just Great Software

EditPad Pro is a powerful and versatile text editor or word processor, designed to make text editing as convenient as possible.

EditPad Lite 8.1.2
JGsoft

EditPad Lite application is a convenient, carefully designed text editor and Notepad replacement.

Portable EditPad Pro 6.2.2.1
JGsoft - Just Great Software

EditPad Pro has a lot of functionality that makes editing text files more convenient for you.

RJ TextEd 3.90
Rickards Software

With RJ TextEd you can use syntax definition files in order to recognize keywords, tags, strings and other items that you want highlighted in the text.

Boxer Text Editor 14.0.0
Boxer Software

Save time and effort with this versatile, full-featured Windows text editor.

Programmer's Notepad 2.0.7.653
Simon Steele

Programmer's Notepad is a very powerful text editor featuring syntax highlighting, project management, a great UI and much more.

Editor 2.1.1
COOL FOCUS INTERNATIONAL LTD

Editor software represents a fast and feature-filled multiple document text editor.

Professional Notepad 2.92.9
ATech Group

Professional Notepad is an advanced utility which lets you to view and edit HTML, CSS, JavaScript, PHP, PERL, SQL, Delphi, C++ and other languages source code.

GWD Text Editor 3.2
Vedran Gaco

GWD Text Editor is a powerful shareware text editor for Windows.

AB-Edit 1.2.1.0
GRAHL software design

AB-Edit is the comfortable text editor for work with multiple documents.