Venis IX 2.1

Venis is a Visual Environment for Nullsoft Install System (NSIS).

Developer:
Spaceblue
software by Spaceblue →
Price:
20.00 buy →
License:
Shareware
File size:
0K
Language:
OS:
Windows Vista

(?)

Rating:

0

/5 (0 votes)
Venis is a Visual Environment for Nullsoft Install System (NSIS). The Venis IX environment will make creating and maintaining NSIS install scripts easy and quick.

Venis IX Features include Advanced syntax highlighting, key word api tips, functions and sections folding, compiler goto error support, a multiple document interface with a file toolbar, and more. Venis IX works with all versions of NSIS.


Venis IX features
Simple NSIS Install Wizard

Drag and drop function wizards updated

Load and save session support

Reload last opened files support

Advanced F1 help uses nsis.chm

Check for NSIS and Venis IX updates

Function/Section view new!

Function and Section folding updated

Wordwrap

Modern UI variables new!

Function/Section View improved

tags

new function section view function section nsis install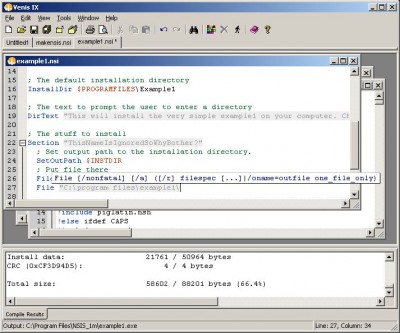 Download Venis IX 2.1
Purchase:

Buy Venis IX 2.1
Similar software

Venis IX 2.1
Spaceblue

Venis is a Visual Environment for Nullsoft Install System (NSIS).

Mihov NSIS Helper 3.3
Miha Psenica

Mihov NSIS Helper is a program for graphical creating of script files for Nullsoft Install System.

SFX Tool 1.01
MuldeR

NSIS is an open source, script-driven installation system with minimal overhead backed by Nullsoft.

NSIS Media Remover 1.1
Amir Szekely

NSIS Media Remover scans your pc and removes installed files and registry keys related to NSIS Media, a notorious malware parasite that serves advertising from your computer.

NSIS Skincrafter plugin 2.6.1
DMSoft Technologies

An installer is the first thing that user faces beginning to use an application.

Nullsoft Scriptable Install System 2.25
NullSoft

Nullsoft Installation System is a pretty small, efficient and very capable installation system for all Windows based systems.

Neat Install 1.1.100
Nimble Software

Neat Install is a set of high-quality graphics compatible with the following installation tools: InstallShield, InnoSetup, NSIS, AWInstall, VISE, WISE, InstallWizard, Ghost Installer, etc.

ISTool 5.16
Bjørnar Henden

ISTool helps you create scripts for Inno Setup compiler.

InstallFix Security Suite 1.0.1
Mike Ciance

InstallFix Security Suite is a free and useful utility that uses the NSIS installer package to remove spyware, tracking, and advertising cookies, harmful programs and viruses, and clear away useless files.

xKOL Full 0.28 Beta
XSDNYD

xKOL is a software that allows you use KOL and MCK.