Self-Extracting Archive Utility 17.3

Self-Extracting Archive Utility (SEAU) compresses multiple files into a single, professional installation program.

Developer:
Gammadyne Software
software by Gammadyne Software →
Price:
49.00 buy →
License:
Trial
File size:
0K
Language:
OS:
Windows Vista

(?)

Rating:

0

/5 (0 votes)
Self-Extracting Archive Utility (SEAU) compresses multiple files into a single, professional installation program.

It supports uninstallation, multiple languages, interface customization, license agreements, readme files, file associations, DOS batch operations, multiple disk spanning, DLL installation, automated installations, patches, expiration dates, shared files, command line archive building.

Here are some key features of "SelfExtracting Archive Utility":

Both SEAU and the installers that it creates work on all versions of Windows® 95, 98, NT4, 2000, ME, XP, and 2003.

Installers created by SEAU may be distributed completely royalty-free.

A SEAU installer is bullet-proof and extremely reliable. You will never get a complaint from a customer that the installation program has crashed.

Learning how to use SEAU is a snap. A complete help file is provided, and every control is linked directly to the appropriate spot within the help file. Each control also has balloon help and a context menu.

You can place files in the archive by dragging and dropping from Windows Explorer. Or you can just specify a directory and archive everything in it, including subdirectories. Or, specify your files by complete path and filename (wildcards permitted).

If any file cannot be replaced (usually because it is in use), the installer can direct the system to replace the file during the next reboot. The end-user will be informed that they need to reboot to complete the installation.

COM files can be installed and registered with the operating system. This includes ActiveX controls and .TLB type libraries.

SEAU's archives can be digitally signed. Uncheck the "Use Checksums" box on the Build branch so that the archive will not report that it has been damaged.

You can make the user agree to an End-User License Agreement (EULA) before installing the product.

You can give the user a chance to read important information in a text file (a "readme" file) before installation begins.

The user is informed when the product is already installed, and if the pre-existing installation is newer, older, or the same version. You can allow or disallow the user to overwrite the previous installation. You can even require that another product be installed first.

The archive can install to a default location or ask the user where the files should be installed.

The installer can create Desktop and/or Start Menu shortcuts to any installed file. Desktop shortcuts can optionally be placed in a folder. Desktop and Start Menu shortcuts can optionally be made available to all users or only the user who installed the product.

The installer can set up a file to be opened (or a program to be executed) every time the machine boots up.

The installer can create a registry key for the application under HKEY_CURRENT_USER and HKEY_LOCAL_MACHINE. Registry keys are deleted during uninstallation. To populate the registry with data, install a .REG file, then merge it into the registry by invoking REGEDIT.EXE from the Post-Installation Batch.

The installer can display a bitmap in the background, a transition from one color to another, or use the default window colors of the end-user. The background can optionally cover the taskbar, or leave it visible. There can even be no background at all.

The archive can be bloated (with random data) to any size you like. This can be effective at preventing piracy. Pirates do not like to pay for lots of web-hosting bandwidth.

The archive can refuse to install on certain platforms, such as Windows NT 3.x.

Fonts can be installed and registered with the Operating System so that they are available to all applications. You have the option of allowing the user to keep the font on their computer during an uninstall.

Long filenames are supported. The date and time of installed files are preserved. Optionally, file attributes (read-only, hidden, etc.) can be preserved.

Archives can be set to expire after a certain date. After the expiration date, the archive will no longer install.

The "Checksum" feature guarantees that the archive has not been damaged, altered, or infected by viruses.

The installer can delete existing files based on date or size criteria. This can be useful when installing over old versions of your software.

Archives can be built from the command line (DOS prompt). This allows you to create a desktop shortcut that will build an archive with a click of the mouse.

When the user is unable to uninstall because of a locked file or other problem, the uninstall operation can be resumed later.

SEAU is very easy to use. There are no scripts or programming like with InstallShield. You can specify the information and have an archive built in a matter of minutes.


Limitations
30 days trial.

tags

the user you can the archive installer can the installer archives can the product end user that the can optionally archive can installed and installed the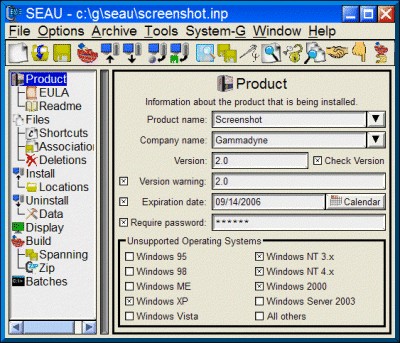 Download Self-Extracting Archive Utility 17.3

Download Self-Extracting Archive Utility 17.3

Purchase:

Buy Self-Extracting Archive Utility 17.3
Similar software

Self-Extracting Archive Utility 17.3
Gammadyne Software

Self-Extracting Archive Utility (SEAU) compresses multiple files into a single, professional installation program.

Agentix Installer 1.9.15
Agentix Software

Agentix Installer is a script-based tool that creates Windows compatible software installers.

EzInstall Free 7.3
Soft9000.com

EzInstall will allow you to easily create a self-extracting installer and uninstaller for Windows operating systems (32 bit).

Actual Installer 7.0
Softeza Development

Actual Installer is a professional software installer that enables you to rapidly create excellent installation packages for your Windows software.

PopulateMSI 2.4
Object Design Labs, Inc.

PopulateMSI is a useful and powerful utility that can create Windows(r) Installer Packages (*.

GatherBird Setup Creator 1.8
GatherBird

Setup Creator is a straight forward way to create installation programs to distribute your Windows applications.

Universal Extractor 1.5
Jared Breland

Universal Extractor is a program do to exactly what it says: extract files from any type of archive, whether it's a simple zip file, an installation program, or even a Windows Installer (.

SSE Setup 10.2
Chris Long

SSE Setup - If you are looking for a no-nonsense installation/uninstallation program, this is it! The SSE Setup program is a FREE, fullly customizable multi-language aware installation and uninstallation program for program developers to use for distribution with their own programs.

Tarma Installer 2.99
Tarma Software Research

Tarma Installer creates fast, compact, and full-featured Windows-compliant software installers for Microsoft Windows platforms, with a small distribution size, a straightforward and clean user interface, and smart install and uninstall behavior.

VV Install Maker 1.2
VarmVaffel Software

VV Install Maker is a software used to make setup and installation programs.