Ghost Installer Studio 4.8.1

Ghost Installer Studio is a visual tool for creating installations.

Developer:
gInstall Corp.
software by gInstall Corp. →
Price:
299.00 buy →
License:
Demo
File size:
0K
Language:
OS:
Windows Vista

(?)

Rating:

0

/5 (0 votes)
Ghost Installer Studio is a visual tool for creating installations. It supports Plug-In API, skins, WebDeploy lets you to distribute your program over a network, RSA encryption and more.


Ghost Installer Studio features
Ghost Installer is compatible with Windows 95/98/Me/NT/2000/XP/2003 and has tons of advanced features:
- Wide variety of project wizards to make deployment easier
- Simple and powerful gDesigner IDE
- Installing of .NET runtime, applications, assemblies and Visual Studio components
- Ability to deploy separate parts of your application or third-party runtimes via the Internet
- Extremely powerful RSA Protection for your installation
- All dialog windows are fully customizable (including uninstallation, system dialogs and even message boxes)
- Fast and effective compression (much better than Zip)
- Single-file self-extracting executable and multi-volume installations
- Scriptable Installer Actions allow an execution of custom scripts on various installer events
- Support for C++, Pascal, VBScript and JavaScript Scripting in addition to available proprietary scripting support
- Compact installer engine
- Installation of files, shortcuts, registry, etc.
- Multi-language installations
- Uninstall, repair and maintenance modes
- Rollback for interrupted installations
- Fully customizeable appearance
- Skinnable user interface
- DirectX deployment support
- Internet Information Services configuration
- Database configuration (MySQL, MS SQL, PostgreSQL, Oracle)
- Plug-In API for own plug-in development
tags

ghost installer installer studio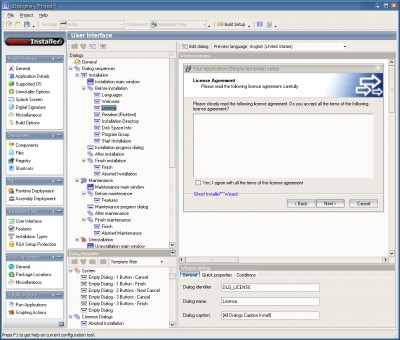 Download Ghost Installer Studio 4.8.1

Download Ghost Installer Studio 4.8.1

Purchase:

Buy Ghost Installer Studio 4.8.1
Similar software

Ghost Installer Studio 4.8.1
gInstall Corp.

Ghost Installer Studio is a visual tool for creating installations.

Deinstallator lite for Ghost Installer 1.2
WhiteTown Software

This deinstallator can be used for simple installations, in cases the size of installation is critical and super features are not required.

Wise Installation Express 7.0.0.760
Wise Solutions

Wise Installation Express 7 is a new installation authoring utility which supports Microsoft's Windows Installer technology.

LizaJet Installer for Delphi Developers 1.2.
LizaJet

Installation and upgrading are just different modes for this efficient installer.

Wise Installation Studio 7.00
Wise Solutions

Wise Installation System is a script-based, easy-to-use installation utility that will help developers create reliable, professional installations to meet a wide range of requirements.

InstallAware Studio for Windows Installer X2
InstallAware Software Corporat

Setup Authoring Automation for Windows Installer: InstallAware is a useful and reliable software which provides an automation interface to programmatically generate and build complete setup projects.

MaSaI Installer 2.3
MaSaI Solutions

MaSaI Installer is a fully-featured packaging solution used by system administrators and software packagers to create and manage Windows Installer (MSI) installations.

Dacris Installer 3.1 Beta
Dacris Software

Dacris Installer is a scripting engine that allows developers to create custom installations for their software products.

PopulateMSI 2.4
Object Design Labs, Inc.

PopulateMSI is a useful and powerful utility that can create Windows(r) Installer Packages (*.

Actual Installer 7.0
Softeza Development

Actual Installer is a professional software installer that enables you to rapidly create excellent installation packages for your Windows software.