Autorun Maestro 8.1

Autorun Maestro is a highly configurable CD menu application that will have you making an attractive Autorun menu in no time at all.

Developer:
Pollen Software
software by Pollen Software →
Price:
19.00 buy →
License:
Shareware
File size:
0K
Language:
OS:
Windows Vista

(?)

Rating:

0

/5 (0 votes)
Autorun Maestro is a highly configurable CD menu application that will have you making an attractive Autorun menu in no time at all.

With a fully graphical interface, the menuís appearance and shape can be completely user configured with independently placed buttons, various screen positions, the ability to show the current time or date, skinnability, settable tab order and keyboard shortcuts, command searching, button animation and auto-detection if installation is required to view a CD document.

Your Autorun/Autoplay menu can be optionally 3D skinned with StyleSkin. The easy-to-use Menu Editor has a multi-document interface, undo and redo, intelligent button placing, a full Button Command Wizard, allows for the use of commandline arguments ... and a whole lot more!

Autorun Maestro could be used to open Internet Sites in the Userís Browser; open directories in Windows Explorer; open sub-menus; launch programs; open documents or files (or anything else that you could imagine placing on a CD) in the Userís viewer.

Autorun Maestro is easy to set up and comes with a dedicated Menu Editor which allows you to quickly and easily create or edit menus. You can use a variety of software to create your images, from Adobe Photoshop to Windows Paint, even applications like PowerPoint can be used to make impressive graphics.

For our sample we used StyleSkin, dedicated skinning software for applications just such as this. StyleSkin allows you complete flexibility over your skin design, while making it very easy to create impressive graphics with an impact only professional skinning graphics can offer.


Autorun Maestro features
Independently placed buttons. You can place buttons anywhere you like on the menu, with snap-to guides to help you. There is even a function which will automatically place the button over the correct part of a background skin.

A full Button Command Wizard! Three step wizard takes you through the process of setting up the command and behaviour of your button and automatically creates your command and changes the relevant flags. The wizard makes it easy for anyone to quickly and easily set up buttons that will open documents, start a program, pass messages to the user, go to an Internet site, etc etc.

Freely shaped form. Dead simple to implement, this feature allows you to have a Autorun menu of any shape or design. Your menu could have rounded edges, or a "hole" in it. Parts missing are really missing, you can click on objects through the hole!

Accessory Text and Accessory Image. You can have text display when the CD menu opens, and have this text change when the User selects or moves their mouse over a button. In this way you can provide more information to the User about each button before they even click on it. With the Accessory Image (which can even be an icon), you can even load up an image when the user selects or moves their mouse over a button. Each button can have its own descriptive text and image.

Settable Tab order. When your end-user clicks the Tab button to go from button to button, YOU choose which button will come next.

The option of Viewer Installation Menus, which automatically come up if the User does not have a viewer installed to view the document you wish to open.

Keyboard shortcuts, where your user can click ALT+[character] to click buttons on your Autoplay menu.

Over ten screen positions for your Autorun menu, which is dynamically placed on the user's screen, irrespective of their screen resolution. The user can also easily drag the menu to move it around the screen.

Ability to load up sub-menus, either separately (retaining the menu which opened them on screen), or in the same instance of Autorun Maestro.

Ability to show the time and/or date on your Autorun CD menu.

Ability to have any button launch a program, open a file in the User's viewer, open a folder to browse, go to an Internet site, open a pre-addressed email or go to a sub-menu. You can also have a button exit or minimize, with or without executing a command.

Full Undo and Redo functionality.

Settable default button. You can easily set which button is selected when the CD Autoplay menu shows.

The ability to insert and delete buttons, as well as the ability to cut, copy and paste buttons between menus.

Graphical buttons allows for different images for button up, button down and active button events.

Ability to animate your buttons in any state (up, active and down).

Taskbar caption animation.

An image browser to help you select your button images.

Ability for fully custom sound schemes, with different sounds for each button.

tags

the user you can autorun maestro the menu when the your autorun autoplay menu allows you each button the ability autorun menu text and your button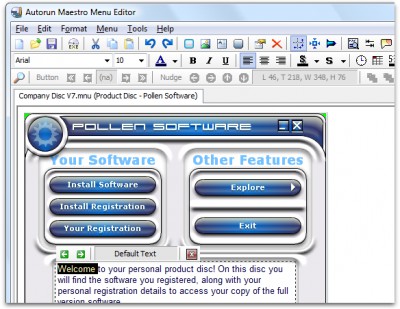 Download Autorun Maestro 8.1
Purchase:

Buy Autorun Maestro 8.1
Similar software