CD Menu Builder 1.03

WISCO CD Menu Builder makes creation of autorun/autoplay CD-ROM Menu projects quick and simple.

Developer:
WISCO Computing
software by WISCO Computing →
Price:
49.00 buy →
License:
Trial
File size:
0K
Language:
OS:
Windows Vista

(?)

Rating:

0

/5 (0 votes)
WISCO CD Menu Builder makes creation of autorun/autoplay CD-ROM Menu projects quick and simple. Our software makes it easy to create a standardized look for all company CDs with an easy-to-use interface.

The optional HTML interface provides complete customization of the end-user interface with clickable links, graphics, and menu options. The end-user interface does not require the use a web browser.

WISCO CD Menu Builder creates professional royalty-free autorun (auto-play) CD-ROM menu projects which can be used to launch other programs, training tutorials, presentations, (CBT) computer based training applications, slide shows, brochures, CD Business cards, and ebooks. Your imagination is your only limitation.

CD Menu Builder is designed to create all settings you need to make a project. You have complete control of your project, including the project colors, layout, text, opening sounds, graphics, and functionality.

The menu selections, clickable buttons and graphics, and HTML links can start other programs (like installers, demos, and help files) and run many internal commands that can verify and change Windows internal settings.

The WISCO CD Menu Builder program gives you a choice of three interfaces. Whichever interface you choose for your project, WISCO CD Menu Builder will create a professional, personalized presentation for your products and content.

The Button Interface can display up to five menu choices, five clickable buttons, each with its own icon, text, fly over text, and command activity. It is best used for projects that have very few actions, or where you want a simple set of choices for your end-users.

The Browser Interface is totally free-form. You create the HTML pages to look any way you want, with no limit on the number of links or graphics the end-user can click.

Links can go to other pages stored on the CD, web URLs, or they can have the same functionality as the button and menu choices in the Button Interface. Because this interface is completely HTML-based, you have quite a lot of freedom to make it look and act the way you want it to.

The Slide Show Interface is used to show BMP and JPEG graphic files on an HTML page. Sound files can be played, and text can be displayed with each graphic. The length of time each page is displayed can also be controlled.


Limitations
reminder screen

30 day limitation

tags

menu builder graphics and end user the end for your you want the button menu choices way you links can button interface you have menu projects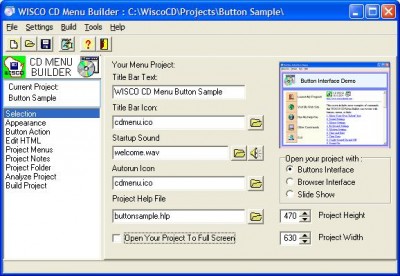 Download CD Menu Builder 1.03
Purchase:

Buy CD Menu Builder 1.03
Similar software

CD Menu Builder 1.03
WISCO Computing

WISCO CD Menu Builder makes creation of autorun/autoplay CD-ROM Menu projects quick and simple.

Easy HTML Autorun Builder 1.6.0
easy HTools

Easy HTML Autorun Builder is a useful and reliable application pack designed for easy creation of HTML-based CD/DVD autorun menu which provides quick access to existing files and documents.

Menu Builder 1.0
ArtistScope

Menu Builder is a software that can be used for navigation buttons or to display an image at any size.

CoffeeCup Flash Menu Builder 3.5
CoffeeCup Software Inc

CoffeeCup Flash Menu Builder is a quick and easy way to create awesome looking flash menus for your Website.

AUTOption Graphic 9.0
Pollen Software

AUTOption Graphic is a customizable Autorun/Autoplay menuing application that gives a highly professional touch to your CDs.

Quick Menu Builder 1.31
Matthieu Godon

You can create design menu quickly without programming anything.

CDMenuPro Business Edition 5.40
Klaus Schwenk Software

Use CDMenuPro to start your CD or DVD automatically with your own individually designed CD autoplay menu - corporate presentations, documents, product catalogs, dissertations, job applications or slide show.

Power AutoPlay Menu Creator 8.21
Arafasoft

Power Autoplay menu creator professional is easy tool for creating powerful autoplay menus without programming experience by Power Autoplay menu creator professional.

Amara Flash Menu Builder 2.5
Amara Software

Amara Flash Menu Maker helps you create professional Flash buttons, menus and navigation bars for your web site fast and easily.

Flash Popup Menu Builder 2.0
Gokhan Dagli

Flash Popup Menu Builder is a tool that allows you to design your Flash based vertical web menu in a few minutes and instantly see the results.