ZVolume Home 2006 4.0

ZVolume Home 2006 is an application that can be used as a replacement for the standars Windows Volume Control.

Developer:
Roman Medvedev
software by Roman Medvedev →
Price:
0.00
License:
Freeware
File size:
0K
Language:
OS:
Windows Vista

(?)

Rating:

0

/5 (0 votes)
ZVolume Home 2006 is an application that can be used as a replacement for the standars Windows Volume Control.

It can be vastly customized, including changing its look using skins. ZVolume Home 2006 supports hotkeys and command-line parameters as well as all other functions the standard Windows Volume Control supports.

ZVolume Home 2006 takes the form of a tiny toolbar - as small as 64x14 pixels. Use your mouse to adjust the volume or take advantage of its extensive hotkey support. Besides allowing you to use your keyboard to adjust your sound card's output, ZVolume Home 2006 can control Winamp, Sonique, the NAD MP3 Player, WPlay (Pro), the Windows CD Player and Microsoft's Internet Explorer 4.0/5.0.

You can mute your sound with a quick double click on the ZVolume Home 2006 system tray icon and just as easily configure many aspects of the program to suit your needs to a tee. Other nice features include support for Winamp bitmap skins (several skins are included), a choice of mixer devices and fader controls, the ability to restore the volume level on startup and several command-line parameters.

Here are some key features of "ZVolume Home":

possibility of controlling of multiple volume controls at the same time by the nice graphical interface;

adjustment of each volume control using independent window;

each window may consist of a mute bar, a volume bar,

a balance bar and an info bar. Each window has own customizings:

own skin, a screen placement and configuration of bars;

popup menu for easy creating of the control window;

unlimited count of the windows;

support up to 4 audio mixers;

hiding in the system tray only. You can change program's tray

icon or remove it entirely;

watching volume changes and redrawing graphical sliders;

support of a bitmap skins with different dimension;

special styled cursors feature;

controlling volume by customizable hotkeys;

support of plugins. A plugin can control other program(s) by hotkeys;

open plugin interface. It means that the plugin can be written by everybody;

fast program configuring "on the fly";

automatic loading of the program at the system start-up;

restoring volume levels on start;

auto-save of settings at the system shutdown;

forcing Winamp player to save its settings at the system shutdown;

support of command-line parameters;

support of mouse with rolls or wheels;

pure Win32 API code.

tags

zvolume home home 2006 the system command line line parameters volume control bitmap skins the program system shutdown each window plugin can tray icon can control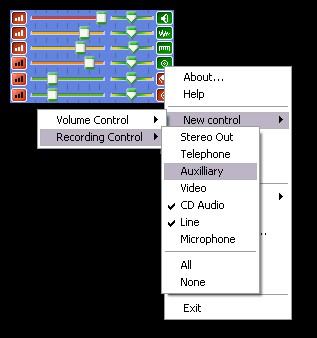 Download ZVolume Home 2006 4.0

Download ZVolume Home 2006 4.0

Similar software

ZVolume Home 2006 4.0
Roman Medvedev

ZVolume Home 2006 is an application that can be used as a replacement for the standars Windows Volume Control.

ZVolume Pro 3.44
Shelltoys Inc.

ZVolume Pro is a nice, powerful replacement to the standard Windows Volume Control.

Power Mixer 2.10
Actual Solution

Power Mixer is an advanced Volume Control replacement application for Windows.

VolumeLock 1.4
Actual Solution

VolumeLock is an easy-to-use audio control utility that gives you the freedom in loudness control.

IndieVolume 3.5.99.171
GerixSoft Ltd

IndieVolume is a small utility extending Windows with functionality to allow applications to have totally separate volume, balance and mute audio settings.
VolumeTray 2.0
GlorySOFT

VolumeTray is a little utility that allows you to adjust volume by two ways: - by clicking with your left or right (volume up/down) mouse button on the icon in the system tray - through assigned system wide hot keys VolumeTray is a tool that allows you control your volume.

IdleMute 2.1
Skrommel

IdleMute - Mute the speaker or run an application after a period of inactivity, add hotkeys to mute and control the volume.

MacSound 1.3
Landvermesser

MacSound is a free and useful application that will control sound volume in Mac OS X Style! No installation is needed.
Pepsi Volume Controller 3.0
Fazihuzzamaan

Pepsi Volume Controller (PVC) has all features of the traditional Windows Volume Control and some other interesting features.

Sound Volume Hotkeys 1.1
Softarium.com

Sound Volume Hotkeys - Control sound volume using system-wide hotkeys.