Actual Spy 3.0
Actual Spy - the spy program for stealthy computer-activity and system events monitoring.

Developer:
Keylogger Actual Spy Software
software by Keylogger Actual Spy Software →
Price:
39.00 buy →
License:
Shareware
File size:
0K
Language:
OS:
Windows Vista

(?)

Rating:

0

/5 (0 votes)
Actual Spy - the spy program for stealthy computer-activity and system events monitoring.

Records all user actions and the system events. Intercepts all keys being pressed (keyboard spy), takes screenshots every specified period of time, records program start and close events, monitors clipboard contents.

Understands character case and foreign characters. Stores reports in the ciphered log files. Convenient log-view interface. Generates the HTML and plain-text reports; delivers the reports to specified e-mail address.

Flexible delivery configuration. Completely invisible to viruses and system processes. Password protected access to the program.

Quick installation, convenient and user-friendly interface, great set of functions, flexible configuration options. When viewing the key log, the program can hide the system keys and thus reveal the text that was typed.

Allows running case-sensitive or case-insensitive log-file search. Provides the maximum file size settings individually for screenshots and text files.

Configurable settings for clipboard size. Actual Spy is a must for any computer user. It helps system administrators keep an eye on their systems. Helps managers to have complete control over their company's computer usage.

Helps parents to know and control the programs run and web sites visited by their children. Helps any computer user see what activities took place in their computer.


Limitations
40-minute monitoring trial.

tags

any computer computer user the program the system and system system events actual spy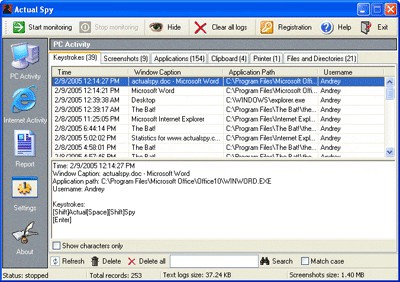 Download Actual Spy 3.0
Purchase:

Buy Actual Spy 3.0
Similar software
Actual Spy 3.0
Keylogger Actual Spy Software

Actual Spy - the spy program for stealthy computer-activity and system events monitoring.

Actual Keylogger 2.4
Actual Spy Software

Actual Keylogger is a free keylogger which runs hidden in the background and automatically records all keystrokes (including Alt, Ctrl and other functional buttons).

aSpy 2.11
Pro-EXESoftware

aSpy is the universal program-spy that gives you the possibility to watch a user work on the computer in your absence.

Data Doctor KeyLogger 2.0.1.5
Pro Data Doctor

Data Doctor's Keylogger is the secure and secret computer Keyboard Activities monitoring tool that allows you to monitor of all typed text, username ID, chat conversations, Passwords etc and other activities performed on your computer in different applications.

123 KeyLogger 1.0.24
Conkurent, LLC

Track activities from all computer users: data typed, sites visited, applications launched etc.
XPCSpy Pro 3.11
x software Inc

XPCSpy Pro is the most powerful surveillance and monitoring solution for home or office use.

ID Computer Spy 1.2
ID Security Suite

ID Computer Spy is a handy utility specifically designed for automatic Internet and PC surveillance.
Private Eye 2004 1.4
VirTec

Text Monitoring Private Eye 2004 is an invisible and easy-to-use PC activity monitoring tool.

All-In-One Spy 2.0
FlamingoSoft

All-In-One SPY is the program that allows monitoring and recording all actions that are performed with a computer.

Wintective KeyLogger 2.1
Terkud

What is Wintective ? A KeyLogger ? A Spy-Ware ? Wintective (KeyLogger & Screen Shots Capture) is a Windows application capable of monitoring any user, and any activity on the computer where it is installed.