Twin Folders 4.5.1

Twin Folders is a file and folder synchronization utility.

Developer:
Dmitry G. Kozhinov software
software by Dmitry G. Kozhinov software →
Price:
24.00 buy →
License:
Shareware
File size:
0K
Language:
OS:
Windows Vista

(?)

Rating:

0

/5 (0 votes)
Twin Folders is a file and folder synchronization utility.

If you are working on two different computers - for example a desktop and notebook, then you need to keep your work files up-to-date at both computers.

Perhaps you do not want to even remember what computer you used last and next time you want to work on either of them.

Twin Folders file synchronizer will make the right choice. Run synchronization before or after you use any of your computers and eliminate any concerns.
tags

twin folders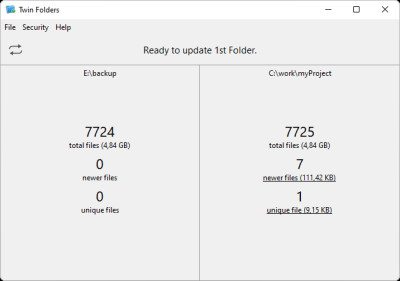 Download Twin Folders 4.5.1
Purchase:

Buy Twin Folders 4.5.1
Similar software

Twin Folders 4.5.1
Dmitry G. Kozhinov software

Twin Folders is a file and folder synchronization utility.

Bronze Tools 5.3
Dmitry G. Kozhinov

Bronze Tools is a package of two utilities - IconEdit2 and Twin Folders.
BKS 3.2.4.30
RD Technologies

Backup2005 Synchronizer can be used to synchronize data between two computers.

DirSync Directory Synchronizer 3.0.6 build 128
Frank Archer

DirSync is an application designed to synchronize directories or folders smartly and quickly.

ZSKSoft Synchronizer 2.2
ZSKSoft Lab

ZSKSoft Synchronizer is a multifunctional folder synchronizer.

Advanced Flash Synchronizer 1.7
URL Toy software

Advanced Flash Synchronizer helps you backup and synchronize data on two PCs that are not connected directly by the help of the external Flash/USB/ZIP drive.

Backup2007 Synchronizer 6.1.303
RD Technologies

With the growing capacity of hard disks and the availability of external drives using USB connections at affordable prices, the synchronization of data has became a real necessity.

Allway Sync 12.2.3
Usov Lab

When you work, even just occasionally, on multiple computers, you usually want your files to be where you are.

WebSynchronizer 1.0
ReGet Software

WebSynchronizer is a universal utility for synchronization directories, no matter where they are located - on the same computer, different network computers or remote servers.

Heatsoft Automatic Synchronizer 2017.32.1.
Heatsoft Corporation

HAS is a folder mirroring and file synchronization tool that allows you to perform the automated or manual synchonizing of local and network files.