RoboNanny 1.2

You cannot always be there for your children 100%.

Developer:
Pingram Marketing
software by Pingram Marketing →
Price:
29.00 buy →
License:
Shareware
File size:
0K
Language:
OS:
Windows Vista

(?)

Rating:

0

/5 (0 votes)
You cannot always be there for your children 100%. Whether they are old enough to be on their own or not, you are constantly worrying about what are they doing right now.

We have the perfect solution, which will finally give you the peace of mind you've longed for. What you need is a home security system.

RoboNanny will help you make sure your children are always safe, with Internet broadcasting and activity recording.

RoboNanny is a computer home security and baby monitoring software.
It monitors sound level in your room via your computer microphone, broadcasts audio from the microphone over the network, and records surrounding audio, and fires sound alarms.

While connected to the Internet (even a 28.8 modem will do, but DSL or Cable is certainly better), RoboNanny can continuously broadcast your room's sounds. You can listen to what's happening in your home by simply connecting to your home IP with Windows Media Player.

If configured, RoboNanny can save all sounds louder than a user-defined threshold level to super-small WMA files to the hard drive. An hour of audio takes less than four megabytes of space.
tags

your home robonanny can your room home security your children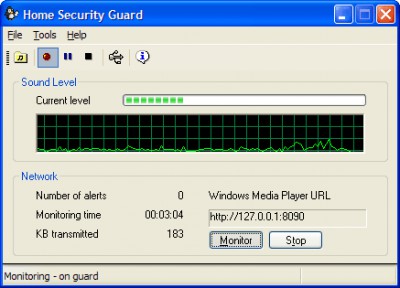 Download RoboNanny 1.2
Purchase:

Buy RoboNanny 1.2
Similar software

RoboNanny 1.2
Pingram Marketing

You cannot always be there for your children 100%.

Conference Recorder 1.1
TOBEST Inc

Conference Recorder is a powerful and very easy-to-use voice recording application by which you can record and save sounds coming through your microphone into computer files.

RockN Recorder 1.7
RockNAudio.com

RockN Recorder is an audio file recorder.

FastRecorder 3.0
Tanseon Systems

FastRecorder is an advanced one-touch recording software that enables you to record any sound output that is played through your sound card as well as other sound sources like microphones, Audio tape players, VCR, CD drive etc.

DigiGenius Sound Recorder 3.6.6
DigiGenius Software Co

Digigenius Sound Recorder is a very useful and easy-to-use sound recorder software.

AD Stream Recorder 1.5
Adrosoft Lab

AD Stream Recorder is a useful sound recording program that can record and visualize live streaming audio from the Internet, audio from movies and music played by Windows Media Player, WinAmp, RealPlayer as well as any sounds from microphone, line-in, CD-audio.
Digiters Sound Recorder 3.6.6
Digiters Software Inc

Digiters Sound Recorder is a professional sound recorder application.

Audio Recorder Pro 3.90
EZ SoftMagic Inc

Audio Recorder Pro is a useful and reliable real-time audio recording software that allows you to record any sounds from your sound card and save the recording directly into MP3, OGG or WAV files.

Perfect Sound Recorder 7.3.9
Miller

Perfect Sound Recorder - With the recorder you can directly digitize recordings of music cassette tapes, streaming Internet audio, vinyl LPs, videos, and meetings directly to your computer's hard disk, creating popular mp3 or wave sound files on the fly.

FREE Hi-Q Recorder 1.92
Roemer Software

FREE Hi-Q Recorder is a free sound recording tool.