Ping Scanner Pro 4.5

Ping Scanner Pro contains 18 tools Ping scanner Pro is the ultimate network troubleshooting tool.

Developer:
Digilex Software
software by Digilex Software →
Price:
39.00 buy →
License:
Trial
File size:
0K
Language:
OS:
Windows Vista

(?)

Rating:

0

/5 (0 votes)
Ping Scanner Pro contains 18 tools Ping scanner Pro is the ultimate network troubleshooting tool.


Ping Scanner Pro features
IP Scan Scan the same IP address for up to 999 times.

IP MultiScan Scan up to 65535 IP addresses at once.

Traceroute A trace of the IP addresses your ping passes on the way to its destination.

MAC Address Gives you the MAC addresses on your subnet.

DNS Lookup Finds the IP address, the name or the MX records of a domain or IP Address.

Whois Query the whois database of your chois for a given domain.

Subnet Calculator Calculates the broadcast address, the network address, the usable start and end address of any given IP address.

Finger Query user information on a finger server.

Troughput test See how fast your network or internet connection realy is. Gives you the possible data troughput to a host.

NT Users Find out wich users are connected to a domain.

Windows Network Browse the windows network.

Network statistics Query your PC about the TCP, UDP, IP and ICMP statistics.

Connection list Find the connections that are open on your PC, including local and remote IP and Port.

Telnet client Very flexible telnet client.

Port scan Find the ports that are accepting connections on a server.

Routable IP list Gives you the routable IP addresses as seen from your PC.

Routing table Shows your pc routing table to find out why packages are not going where they should go to.

Interfaces Enumerates the interfaces present in your pc, including there MAC address, speed, bytesin, bytes out index # and name


Limitations
30 days trial.

tags

you the ping scanner gives you address the scanner pro telnet client routing table that are windows network find out mac address find the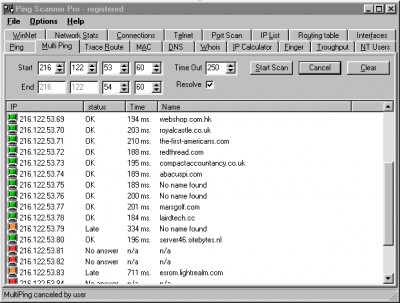 Download Ping Scanner Pro 4.5
Purchase:

Buy Ping Scanner Pro 4.5
Similar software

Ping Scanner Pro 4.5
Digilex Software

Ping Scanner Pro contains 18 tools Ping scanner Pro is the ultimate network troubleshooting tool.
Ping Scanner 4.5
Digilex Software

Ping Scanner is an application that contains 6 major funtions to test your network.

NetPenguin 1.05
NetPenguin.Net

NetPenguin - including following network tools: - IP Scanner which can find IP address; - LAN Scanner which can scan IP addresses in ethernet LAN; - Ping;netstat; - Port Scanner; - Domain Name Search which can find informations of country and others from DNS,whois server; - Packet Sniffer; - MAC Address Scanner which can lookup MAC address with a specific IP address; - ARP fastener which could bolt ARP to IP address What's New in This Release: · Fixed some little bugs · Associated with *.

IP-Tools 2.50
KS-Soft

IP-Tools offers many TCP/IP utilities in one program.

1st Ip Port Scanner 2.0
1st-soft Inc.

1st Ip Port Scanner is a very useful Ip Scanner and Port Scanner.

PCS Network Tools 4.2.001
Patrick Computer Services

We think you'll agree that this is the BEST suite of network diagnosis tools available! The PCS Network Tools is a collection of essential network diagnostic tools.

My IP Suite 6
VastSoft

My IP Suite is an AWARD-WINNING network tool to work with IP addresses.

UtawaNET Utilities 2003
Sillico Software

UtawaNET Utilities 2003 is a set of 15 utilities combined to give you a comprehensive toolset for network analysis.
AB Complete Ping 3.00
AB Software

AB Complete Ping allows you to ping one or more IP addresses, to scan a network for shared resources and to scan a computer for open ports.

WinSuperKit 6.3.1.574
Mjksoft, Inc.

WinSuperKit is a strong network package tool that is used to list ip and MAC addresses of all PCs on your home LAN, find ip address of a special host or host name of a special ip address on internet or intranet, ping a host, trace routes and display the geographical location of the ip address.