KingLister 1.36c

Some programs let you create custom play lists.

Developer:
KingLister
software by KingLister →
Price:
29.00 buy →
License:
Shareware
File size:
0K
Language:
OS:
Windows Vista

(?)

Rating:

0

/5 (0 votes)
Some programs let you create custom play lists. But only KingLister lets you find the exact song you want in less than a second.

KingLister is the only tool you need to quickly build play lists. Search all your song folders for specific song titles, artists, years, or genres. Look for partial text matches within titles, or artist's names! Sort on any category. KingLister can do it all.

Do you have a list of songs you want to send to your MP3 player? How do you collect just those songs from all the MP3 files on your computer?

With KingLister, all you have to do is right click on the play list name and select "create a song folder". Make up a new folder name and all the songs in that play list will be copied there. This makes transferring files to your MP3 player easy!

KingLister Offers

1) No limit on the number of songs you can have
2) Unlimited number of song folders
3) Any number of play lists
4) Search or sort by song, artist, year, decade, or genre
5) Partial text search- find any song *containing* specific text
6) Build folders of just the songs in a play list. Great for loading your mp3 player!
7) Auto lister builds play lists from boolean commands.
8) Always remembers what you were last doing the last time you ran it.
9) Unlimited undos and redos
tags

play lists your mp3 mp3 player play list the songs name and all the songs you you want song folders partial text you have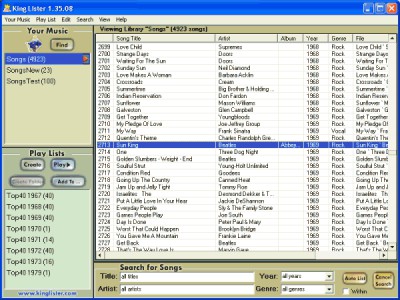 Download KingLister 1.36c
Purchase:

Buy KingLister 1.36c
Similar software

KingLister 1.36c
KingLister

Some programs let you create custom play lists.

MP3 Explorer Pro 1.0
Nehuen Multimedia

With MP3 Explorer Pro you can download and play over 1,000,000 FREE mp3 songs and music from MP3.

NSA Song Player 1.22
NSA Software

The NSA Song Player is designed to help you learn and create songs for the guitar.

PartyTime Player 1.2
VerenaSoft

PartyTime Player is a useful and easy to use player for clubs, pubs, parties or your personal use.

Karaoke Manager 1.21
Henry Bartlett

Karaoke Manager is a database tool designed for karaoke files formatted as .

MP3 Mixer & Recorder 1.2
picget

Do you want to mix two mp3 songs together? Do you want to mix one song with a dancing music? MP3 Mixer & Recorder will help you mix two songs together.

MParty3 1.5
RSS Systems

MParty3 is a random Mp3 player that allows you to listen your favorite music without having to worry about anything.

MM Player 5.1 build 231
David Polberger

MM Player greatly simplifies managing all your myriad media files and Compact Discs.
VisiTunes 0.9.1
NaiveSoft

What is VisiTunes? VisiTunes is a useful and reliable content-based MP3 playlist generator and jukebox.

Organizer Mp3 4.53
Slavik Neymer

Create professional-looking MP3-CDs in 15 minutes with Organizer MP3! Finished CD works on any Windows computer, and doesn't require install.