KB Piano 2.5

KBPiano will turn your PC into a piano.

Developer:
Gabriel Fernandez
software by Gabriel Fernandez →
Price:
22.00 buy →
License:
Trial
File size:
0K
Language:
OS:
Windows Vista

(?)

Rating:

0

/5 (0 votes)
KBPiano will turn your PC into a piano.

Just press the keyboard's keys and you'll hear sounds coming out your speaker.

You can configure the program to play chords by pressing just a key (configured automatically when you create a new file). Supports 15 channels, and realtime mixing, so you can create professional quality midi files.

It is very easy to learn and use. If you want to record your own songs, give KBPiano a try !


KB Piano features
Includes tutorials that will teach you how to create a song in a few minutes.

127+ instrument sounds.

Play chords with one key using Qchords.

Record your songs using up to 99 channels.

Includes a metronome.

Customizable keyboard.

Easily edit mistakes in your songs with the Events Editor.

Add audio

tags

your songs record your play chords you can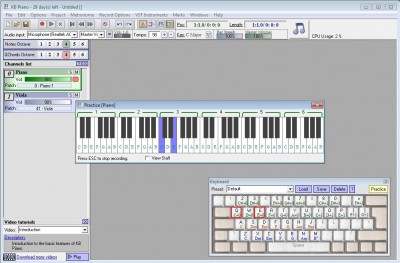 Download KB Piano 2.5
Purchase:

Buy KB Piano 2.5
Similar software

KB Piano 2.5
Gabriel Fernandez

KBPiano will turn your PC into a piano.

Piano Chords and Music 1.0
Caltrox Educational Software

Play the Piano or Keyboard by ear quickly using rhythm, beats & audio clips.

Guitar Chords Library 5.8
BVRSoft

Find chords (more then 3000), select different type and mode play of guitar for playing chords (more then 72000 MIDI files) and songs, songbook.

NSA Song Player 1.22
NSA Software

The NSA Song Player is designed to help you learn and create songs for the guitar.

SunMetronome 3.8.0
Slavko Ilic

METRONOME It offers many options usually not available in real metronome devices.

Piano Chord Helper 4.3
Rob Wright

Piano Chord Helper is a n application to help piano and keyboard players, by clearly showing the piano keys they should be hitting to sound certain chords.

HappyEO Pro 3.08
HappyEO

Always wanted to play the Piano or the Electric-Organ? Try HappyEO! It will turn your computer into a advanced Electric-Organ! A beginner can use it to learn musical theory and recognize score, and an expert can use the computer keyboard to play beautiful songs! HappyEO is a virtual instrument with your computer keyboard and mouse.

PianoFX STUDIO 4.0
Tanseon Systems

PianoFX Studio is a powerful Piano and Music Keyboard Synthesizer for the Personal Computer.

Limouzik 2.0
La Pouge

Turn your PC into a musical instrument: midi polyphonic keyboard, with Limouzik application.

Chord Miner 1.0.2
Charanga Ltd

Chord Miner is the best chord reference and repertoire tool designed to suit guitarists of al levels.