IP-Tools 2.50

IP-Tools offers many TCP/IP utilities in one program.

Developer:
KS-Soft
software by KS-Soft →
Price:
35.00 buy →
License:
Shareware
File size:
0K
Language:
OS:
Windows Vista

(?)

Rating:

0

/5 (0 votes)
IP-Tools offers many TCP/IP utilities in one program.

This award-winning program can work under Windows 95/98/ME/NT4.0/2000/XP and is indispensable for anyone who uses the Internet or Intranet.

IP-Tools includes 17 utilities:

- Local Info - examine the local host and show info about processor, memory, Winsock data, etc
- Connection Monitor - displays information about current TCP,UDP network connections
- NetBIOS Info - get NetBIOS information about network interfaces (local and remote computers)
- NB Scanner - shared resources scanner
- Name Scanner - scan all hostnames under range of IP addresses
- Port Scanner - scan network(s) for active TCP based services
- UDP Scanner - scan network(s) for active UDP based services
- Ping Scanner - ping a remote hosts over the network
- Trace - trace the route to a remote host over the network
- WhoIs - obtain information on names from the Network Information Center
- Finger - finger one or more users at a remote host
- LookUp - look up domain names according to its IP address or an IP address from its domain name
- GetTime - get time from time servers (also it can setup correct time on local system)
- Telnet - telnet client
- HTTP - HTTP client
- IP-Monitor - show in real time graphics for TCP,UDP,ICMP In,Out,Error packets
- Host Monitor - monitoring the up/down status of selected hosts.

Features:

Program allows multitask operation - You may use all utilities at the same time.

Many utilities can obtain information from a single host, from all hosts within a range of IP addresses (ex. 195.128.74.1 - 195.130.200.5) or work with list of hosts and IP addresses.

IP-Tools can save obtained information into text file or create cool HTML reports.

Highly intuitive interface makes operation easy for users

Easy Install / Upgrade / Uninstall program

After registration you gain the right to use ALL future IP-Tools updates and releases, on the same OS platform, in the registered mode.

tags

the network scanner scan remote host obtain information use all the same based services tcp udp scan network for active information about over the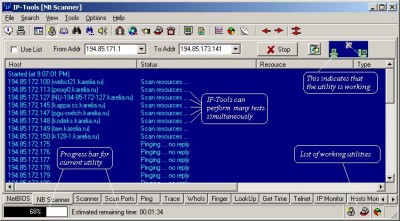 Download IP-Tools 2.50
Purchase:

Buy IP-Tools 2.50
Similar software

IP-Tools 2.50
KS-Soft

IP-Tools offers many TCP/IP utilities in one program.

Ping Scanner Pro 4.5
Digilex Software

Ping Scanner Pro contains 18 tools Ping scanner Pro is the ultimate network troubleshooting tool.

PCS Network Tools 4.2.001
Patrick Computer Services

We think you'll agree that this is the BEST suite of network diagnosis tools available! The PCS Network Tools is a collection of essential network diagnostic tools.

MegaPing 4.9.0.2
Magneto Software, Inc.

MegaPing is the ultimate set of diagnostics and information utilities.

NetPack 1.2
asmedia

With ping utility you can check your connection to any host in an intranet or an internet.
Ping Scanner 4.5
Digilex Software

Ping Scanner is an application that contains 6 major funtions to test your network.

UtawaNET Utilities 2003
Sillico Software

UtawaNET Utilities 2003 is a set of 15 utilities combined to give you a comprehensive toolset for network analysis.

AATools 5.92
G-Lock Software

AATools is a multithreaded network diagnostic tool.

Atelier Web Security Port Scanner 4.61
Atelier Web

Atelier Web Security Port Scanner is an innovative network diagnostic tool that adds a new dimension of capabilities to the arsenal of network administrators, information security professionals and all people concerned with safety on PCs.

1st Ip Port Scanner 2.0
1st-soft Inc.

1st Ip Port Scanner is a very useful Ip Scanner and Port Scanner.