CDMenu 3.0

With CDMenu you will be able to create your own professional CD autostart menu.

Developer:
Klaus Schwenk Software
software by Klaus Schwenk Software →
Price:
19.00 buy →
License:
Shareware
File size:
0K
Language:
OS:
Windows Vista

(?)

Rating:

0

/5 (0 votes)
With CDMenu you will be able to create your own professional CD autostart menu.

Launch your CDs professionally with the help of the Windows Autorun feature. Offer the users of your CDs an autoplay menu that is clear, that provides information about the CD and its contents and that presents all possible actions clearly.

Using CDMenu you create your own individual menu interface without any programming knowledge. All registered file types and programs can be linked using the buttons. Moreover, CDMenu is smart. It launches corresponding programs to match all registered document types (HTML, DOC, TXT, PPT,...). CDMenu creates all files needed by Autostart (Autorun.inf).
CDMenu sets your creativity free. With the help of background images and bitmap buttons, the menu designer has full control over the final appearance of the user interface.

The Professional Editions also include integrated Sound and AVI Players, which make it possible for these files to be played without triggering the Windows media player. These Editions also feature frameless windows without title bars.

The created menu requires no registry entries, runtime modules and DLLs of it's own.


CDMenu features
Display of every registered document (e.g.: TXT,DOC,HTML) via automatic start of the corresponding application.

Start any program.

Start the default browser with document URL.

Selection menu via action buttons.

Integrated AVI video player.

Background colour and background image selection option.

Background sound.

Splash screen.

Tooltips.

Own program icon can be displayed in the title bar.

Free configuration with CDMenu Editor.

No programming knowledge required.

No registry entry necessary.

Runs from CD-ROM without installation.

No runtime module required.

tags

programming knowledge the windows all registered registered document editions also the help with the cdmenu you create your your own your cds with cdmenu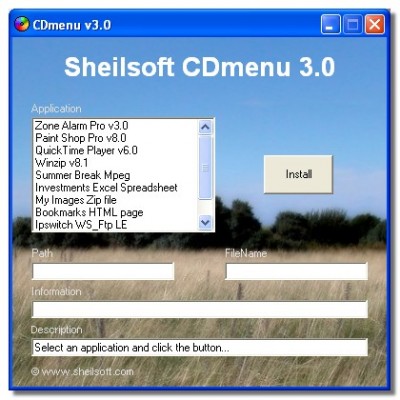 Download CDMenu 3.0
Purchase:

Buy CDMenu 3.0
Similar software

CDMenu 3.0
Klaus Schwenk Software

With CDMenu you will be able to create your own professional CD autostart menu.

CDMenuPro Business Edition 5.40
Klaus Schwenk Software

Use CDMenuPro to start your CD or DVD automatically with your own individually designed CD autoplay menu - corporate presentations, documents, product catalogs, dissertations, job applications or slide show.

Autorun Action Menu 3.1.2
Pollen Software

Autorun Action Menu is an easy-to-use Autorun/ Autostart menu creator specifically designed for individual users with CDR drives.

AUTOption Graphic 9.0
Pollen Software

AUTOption Graphic is a customizable Autorun/Autoplay menuing application that gives a highly professional touch to your CDs.

CD Menu Builder 1.03
WISCO Computing

WISCO CD Menu Builder makes creation of autorun/autoplay CD-ROM Menu projects quick and simple.

SamLogic CD-Menu Creator 8.5.4
SamLogic

SamLogic CD-Menu Creator is an easy-to-use tool that creates impressive autoplay/autorun multimedia menu interfaces for CD and DVD.

Power AutoPlay Menu Wizard 3.1 build 081006
Arafasoft

Power Autoplay menu wizard is the only program in its kind that creates professional CD/DVD menus for your disks automatically.

Autorun Maestro 8.1
Pollen Software

Autorun Maestro is a highly configurable CD menu application that will have you making an attractive Autorun menu in no time at all.

Cd Autoplay Gen 2.0
Logiccode

Cd Autoplay Gen is a program that will autoplay any CD inserted in the CD-ROM.

Power AutoPlay Menu Creator 8.21
Arafasoft

Power Autoplay menu creator professional is easy tool for creating powerful autoplay menus without programming experience by Power Autoplay menu creator professional.